Work from the heart
We're just friendly humans, but design is our superpower.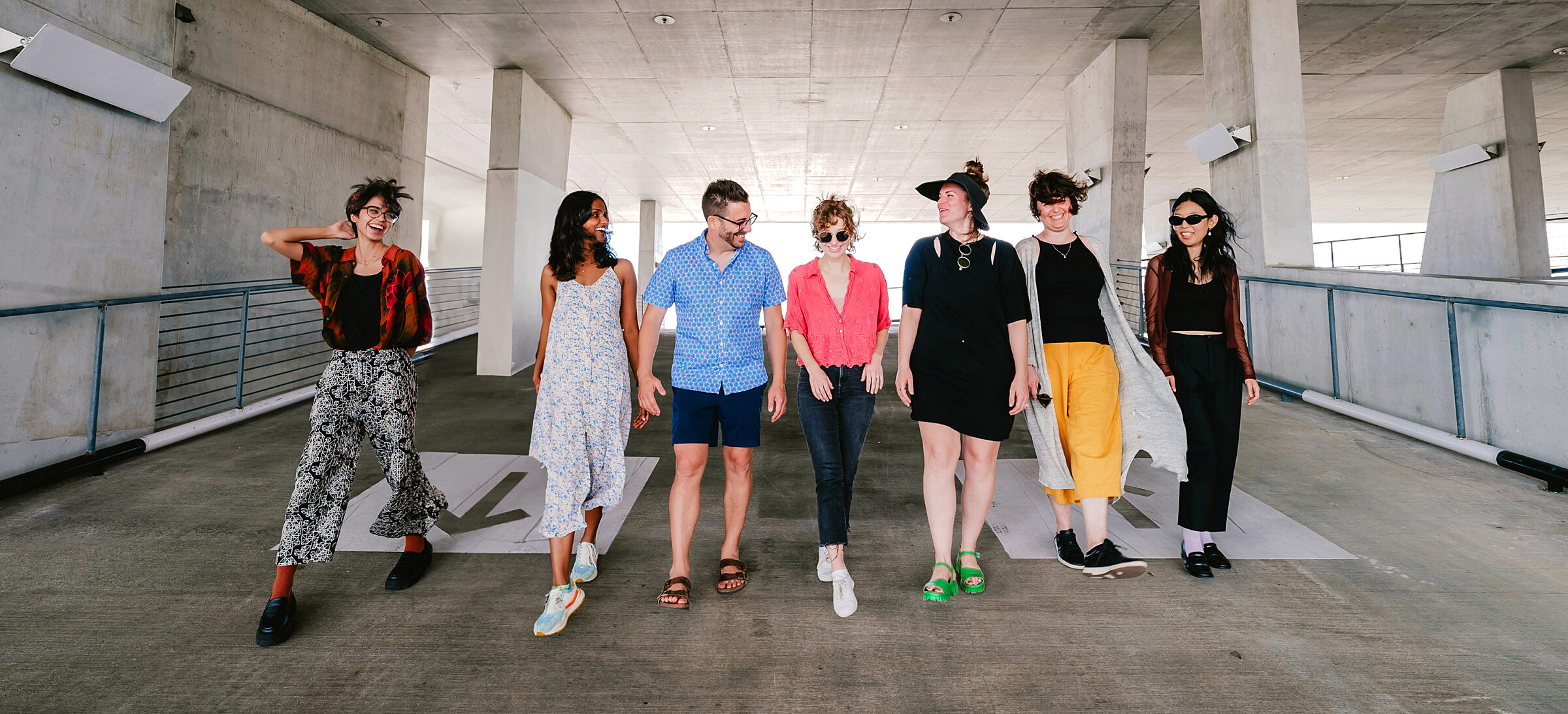 Our Team
An eclectic crew of soccer superfans, painters and poets, chefs and plant lovers come together as Hyperakt. We celebrate our diverse points of view and show up as our full selves every day. The unique experiences we bring from outside the studio—where we come from, the causes we believe in, and the hobbies we hone—make our work stronger.
Looking for your next adventure?
We are a small team and we're only actively hiring for positions when they're listed below. But you can sign up for our newsletter (select "Hype Jobs") to get a heads up about full-time and freelance opportunities as they arise. If you'd like to reach out and tell us about yourself and your work anyway, you can do so here. Please understand that we can't respond to all the job inquiries we receive.
We are fully remote
We value the flexibility of working from wherever we feel comfortable, but we also make time for picnics, museum visits, and other fun field trips so we have IRL quality time together on a regular basis.
Perks & Benefits
Here's how we support you beyond a paycheck.

Work/Life Balance
In order to hustle hard and take our work seriously, we value rest, rejuvenation, and life outside of the office. Our standard workweek is forty hours.
Vacation
We have an unlimited vacation policy, and trust you to take the time you need to recharge—whether that's traveling the world or bingeing the latest Netflix series.
Insurance
We cover most of your premium for Aetna insurance including your choice of plans across health, dental, and vision. You'll also get a membership to One Medical!
Commuter Benefits
If you use public transportation to get around, you can tap into your choice of pre-tax commuter benefits.
Retirement
Take care of future-you! After one year, we'll hook you up with a 401(k) plus 3% employer match.
Professional Development
We're always honing our craft, and we'll support you in deepening your skills or learning new ones. In addition to team learning opportunities, each member of our team is provided $1,000 for their annual professional development stipend with guidance from their team manager.
Family-friendly
We are proud to support parents and caregivers with flexible scheduling. For new parents, we offer up to eight weeks of paid leave, plus an option to take an additional month unpaid.
Volunteering & Pro Bono Work
As you might have guessed, we believe in giving back. You're welcome to use up to 40 hours of paid time annually to contribute your talents to causes you believe in.
Accountability & Transparency
Collaboratively crafted by our entire team, our Code of Conduct outlines the values, cultural norms, and behaviors we embrace and reject at Hyperakt. We also regularly share the business's financial health, and our doors are always open to feedback from all employees.