Let's get to work
Have a project idea in mind? Let's work together.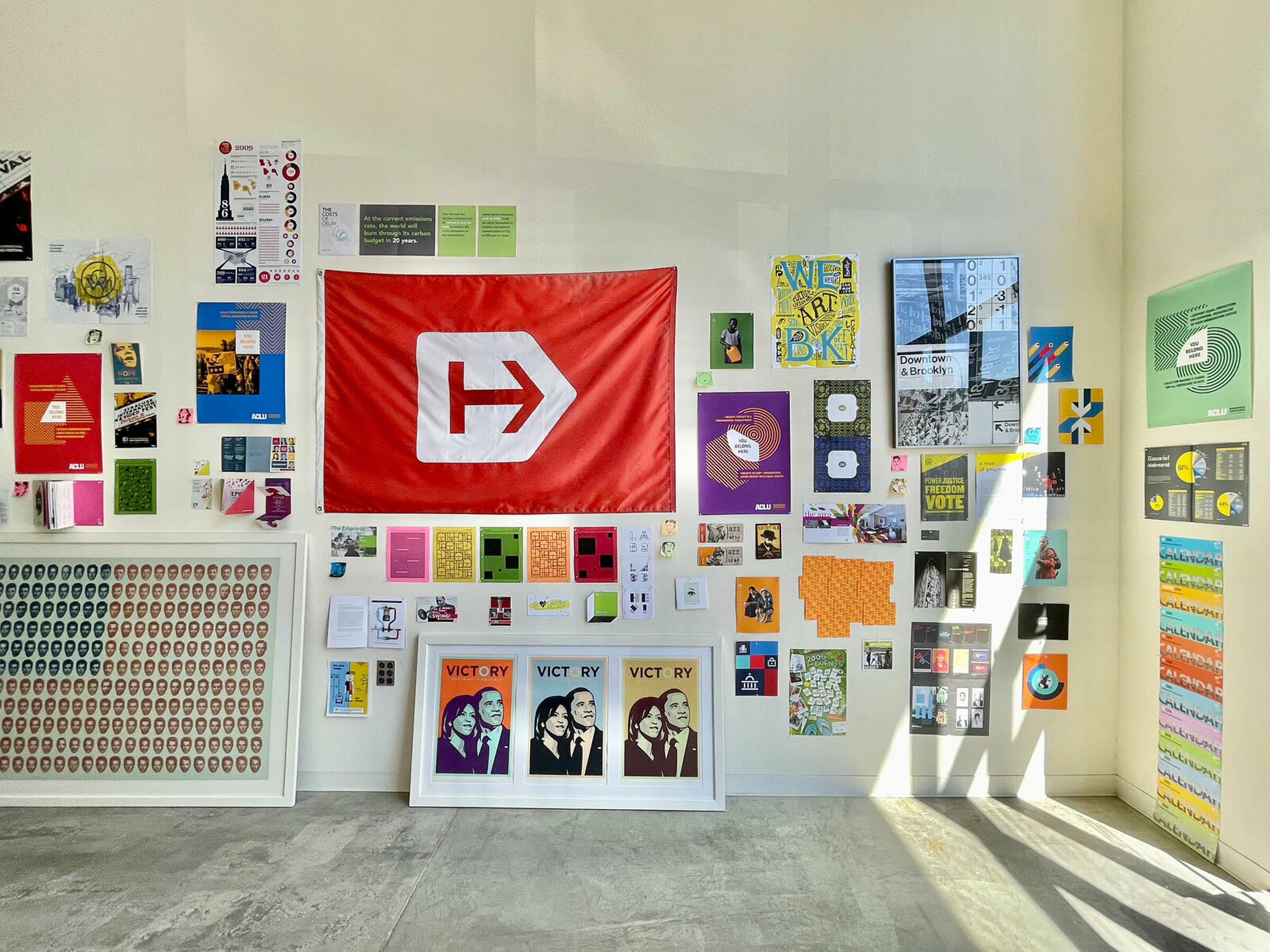 Frequently Asked Questions
Do you have a physical studio space?

We did for 20 years, yes. We hosted many events for the design community in our space, including our Lunch Talks series featuring some of the greatest living designers in the world. Currently, due to the changes in working patterns caused by the pandemic, we are a fully remote team.
Are you hiring?
Check out our Careers page. We're a small studio and we like to keep it that way, so we don't hire often. For early career designers, we usually have 2-4 openings per year for our paid internship program.


Can you review my portfolio or help me with career advice?
As a studio founded over 20 years ago when we were in our early 20s, we like to remind folks (and ourselves!) that it's never too early to start… and it's never too late to learn. While we don't have the capacity to conduct individualized portfolio reviews, we dohost small Zoom gatherings called Hype Q&A where we try to provide our insights and advise to creatives navigating the design field. Tell us more about yourself to find out when the next one is happening.

How can I stay up-to-date on Hyperakt's upcoming projects, opportunities, and events?
So glad you asked! Sign up for our newsletter and follow us on Instagram and Twitter for real-time updates.
I am a freelance designer, developer, illustrator, or photographer. Do you partner with freelance talent?

We do! We are always interested in building our network of experienced freelancers and are especially looking for photographers and videographers who work in a human-centered photojournalism style. We look for roots in diverse communities and a balance of dignity, historical awareness, and playfulness. If you think you'd be a great project-based addition to the Hyperakt team, tell us why and share your portfolio. We really appreciate each and every person who's interested in collaborating with us, but due to the number of inquiries we receive, we aren't always able to respond individually.

What do you mean when you say you're a "purpose-driven" or "social impact" design studio?

We are proud to work with clients who are moving society and culture forward. We focus our business on partnering with organizations, businesses, and initiatives that are striving to make the world a better place. Our expertise is in helping established nonprofits wrestle with change, confront tensions, and coalesce around a brand that resonates with their teams and audiences.
I just started an organization and need someone to help me with branding and a website – can you help?
Maybe. If you're just getting started and are working with a very restricted budget, we're probably not the right partner. But feel free to send us an email inquiry and include your budget up-front so we can evaluate whether our rates will be a match for what you're looking to spend. If our budgets aren't aligned, we're happy to recommend other partners that might be a good fit.

What does the name Hyperakt mean?
Our name originates from Hyperakt Partner, Deroy Peraza's childhood nickname. His mom used to call him "trompoloco" (crazy spinning top in Spanish) because of his hyperactive nature. In fact our first ever website featured a crazy spinning top on it (ah, the days of Flash). The name eventually evolved into something more action-oriented – "hyperact". Hyperact.com wasn't available in September of 2001 when we came up with the name, so Hyperakt with a k was born. Don't worry, we scored Hyperact.com a few years ago, so whether you spell it with a c or a k, you'll end up in the right place. When we came up with the name, the web was exploding and terms like hypertext and hyperlink were relatively new. Hyperakt felt like a more on-brand way of saying interact. But the name ended up being more prescient than we ever imagined as the studio evolved into a purpose-driven partner to visionary changemakers.
How did the studio get started?
Julia and Deroy met as freshmen at Parsons School of Design in 1996. Drawn together by their shared histories — both are refugees from communist countries — and a fierce dedication to their creative work, Julia and Deroy continued to build their competitive, collaborative friendship throughout college. The duo joined forces professionally in 2001, creating Hyperakt after just a few post-graduation freelance gigs. As a freshly minted studio, Hyperakt took every project it could get its hands on and learned how to run a business the hard way: slowly. In 2008, with Barack Obama's election and the Great Recession raging through the economy, Julia and Deroy felt called to focus Hyperakt's mission, beginning the studio's next chapter as a purpose-driven agency.

Can a design studio be sustainable only working for socially conscious clients?
Yes! Our clients are a mix of nonprofits and socially conscious for-profit companies. Nonprofit ≠ no income. Like any business, charitable organizations need to make financial investments in order to achieve their goals. Those investments (like building a new website, refreshing the organization's brand, or building a digital awareness-building campaign) are accounted for and covered by grants, government fundraising and private and corporate donations.
And socially conscious businesses have become increasingly common, as we collectively recognize that we can, and must, prioritize people and planet alongside profit. By working with clients whose missions we believe in, we produce our best work, which in turn helps us continue to thrive as a studio.
How do you determine what projects you take on?
We always work with clients that are compatible with our values, but there's no standard calculation that we apply across the board to determine whether a project is the right fit. We like to stay open-minded and explore conversations with folks who are interested in working with us.
In addition to budget and timeline alignment, some factors that we account for are the cause the client is working on, the attitude and mindset of the folks we speak with throughout the inquiry process, and how the project will challenge and expand our team's talents and skills.
There is often nuance to these decisions and we regularly have open team-wide discussions when the decision to work on a project requires weighing pros and cons.
What kinds of projects would you like to do more of?
We're inspired by organizations, companies, and initiatives that understand the power of branding and design to effect change. More than any specific field or issue, we are always seeking bold, risk-taking clients who are creating opportunities for creativity, equity, and access in society.