Insights
Designing for Mental Health
Creating space for community using a digital toolbox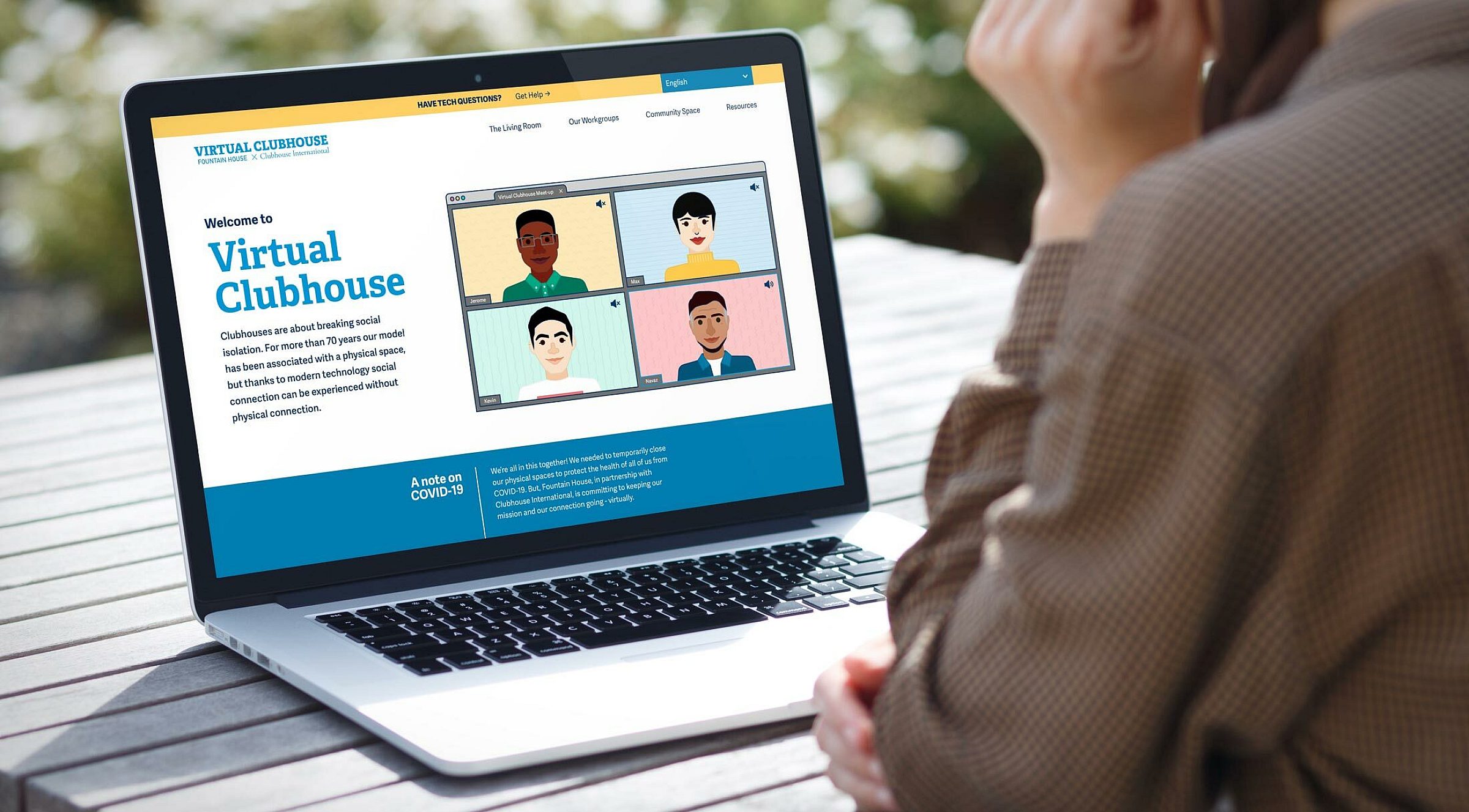 With all of its ravages, the COVID-19 has brought questions of wellness, equity, and community responsibility to the fore. And as Dr. Ashwin Vasan explained in his Portraits of Leadership interview, mental health and public health are inextricably intertwined. The people who are bearing the brunt of the COVID-19 crisis are those who are already most vulnerable — folks who are unhoused, living with mental illness, or are veterans, refugees, and immigrants.
Especially as public health resources are spread thin, how can we be better meeting the needs of friends, strangers, neighbors, colleagues, and loved ones who have the opportunity to thrive with additional support?
We recently worked with New York City-based nonprofit Fountain House, a network of mental health care programs rooted in vibrant, collaborative communities that build up work, wellness and social connections. The nonprofit, which Dr. Vasan leads, has successfully practiced in its high-touch, human-centered methodology for over 70 years, inspiring an international presence in over 30 countries.

Fountain House eschews institutionalized pathology in favor of a more integrated approach that resembles the normal lives its members are working toward. And it's been very successful. Members complete school at rates twice the national average for folks living with mental illness, and are employed at triple the average. Fountain House also helps radically reduce re-hospitalizations: the standard rate of 50% is only 10% for Fountain House members.
When COVID-19 hit, Fountain House needed to mobilize its practitioners and members to continue their life-changing work outside of the bricks-and-mortar "clubhouses" that are, quite literally, the cornerstone of the Fountain House model.
Hyperakt worked with the FH team to weave together existing social communication platforms like Zoom, Slack, and Facebook into a Virtual Clubhouse. With an easily navigable user experience and friendly, bright illustrations, we aimed to translate the same warm, welcoming, and purposeful environment of Fountain House clubhouses into the digital sphere.
While COVID-19 forced Fountain House's hand in developing its new digital dimensions, it also solved problems that existed pre-pandemic. For members who had moved on to different places — following jobs, education, or personal paths—the reliance on bricks-and-mortar meant those folks could no longer participate in the communities they'd become an integral part of.
And for people with limited mobility, traveling to the physical Clubhouse could be a barrier to treatment. By bringing their community online, Fountain House has a newfound opportunity to reconnect with past members, and expand their reach to potential members who might not make it to the Clubhouse under everyday circumstances.
Dr. Vasan shared, "I'm encouraged to see how the world is finally seeing public health as a critical part of our society, and something that requires investment, maintenance, and leadership in order to stem and to prevent pandemics like this, but also to build more equitable and just societies where everyone has an equal opportunity to live a healthy life."
We couldn't agree more—and we're proud to contribute some steps in that direction with the launch of the Virtual Clubhouse. Although the program is members-only, you can preview the site.
Want to talk about creating digital spaces for your community? Email the Hyperakt team at whatsup@hyperakt.com.