Work
On the Grid
Co-creating the ultimate guide to global creative neighborhoods with designers around the world.
An homage to cities and and their resident designers
The name On the Grid celebrates the urban street grid, with a nod to the tool most used by graphic designers: the alignment grid.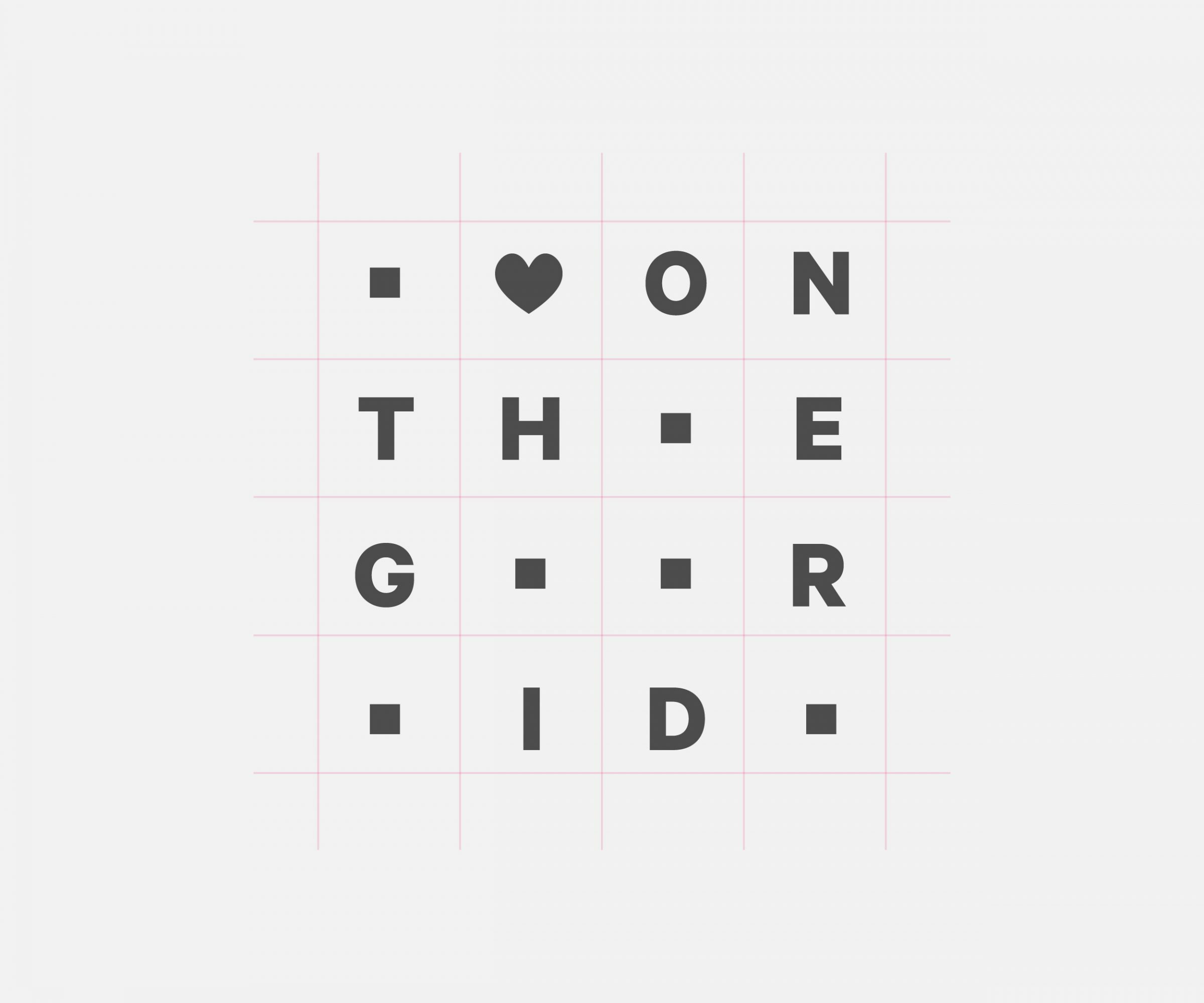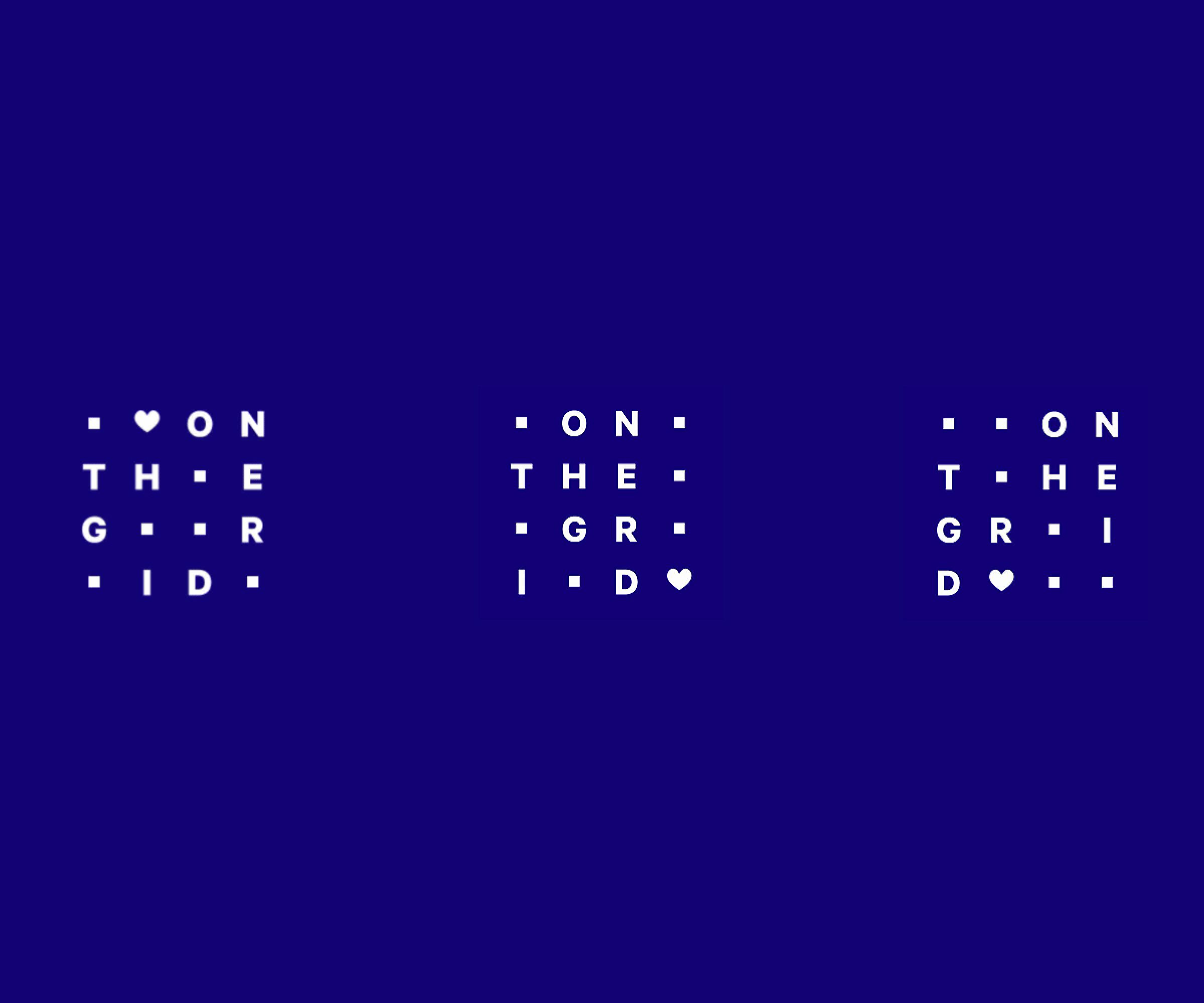 It all started in Brooklyn
We love Gowanus. The neighborhood that plays host to Hyperakt HQ is full of great restaurants, coffee shops, bars, and creative spaces. To celebrate Gowanus, we built a simple, user-friendly neighborhood guide that captures the true essence of the places we love—through beautiful photography, candid descriptions, and design-driven curation.

Start small, think big
What started as a single neighborhood guide in Brooklyn grew into a collection of neighborhood guides for cities around the world, all curated by local creatives.

534

neighborhood guides

114

cities

43

countries

11K

places

50K

original photos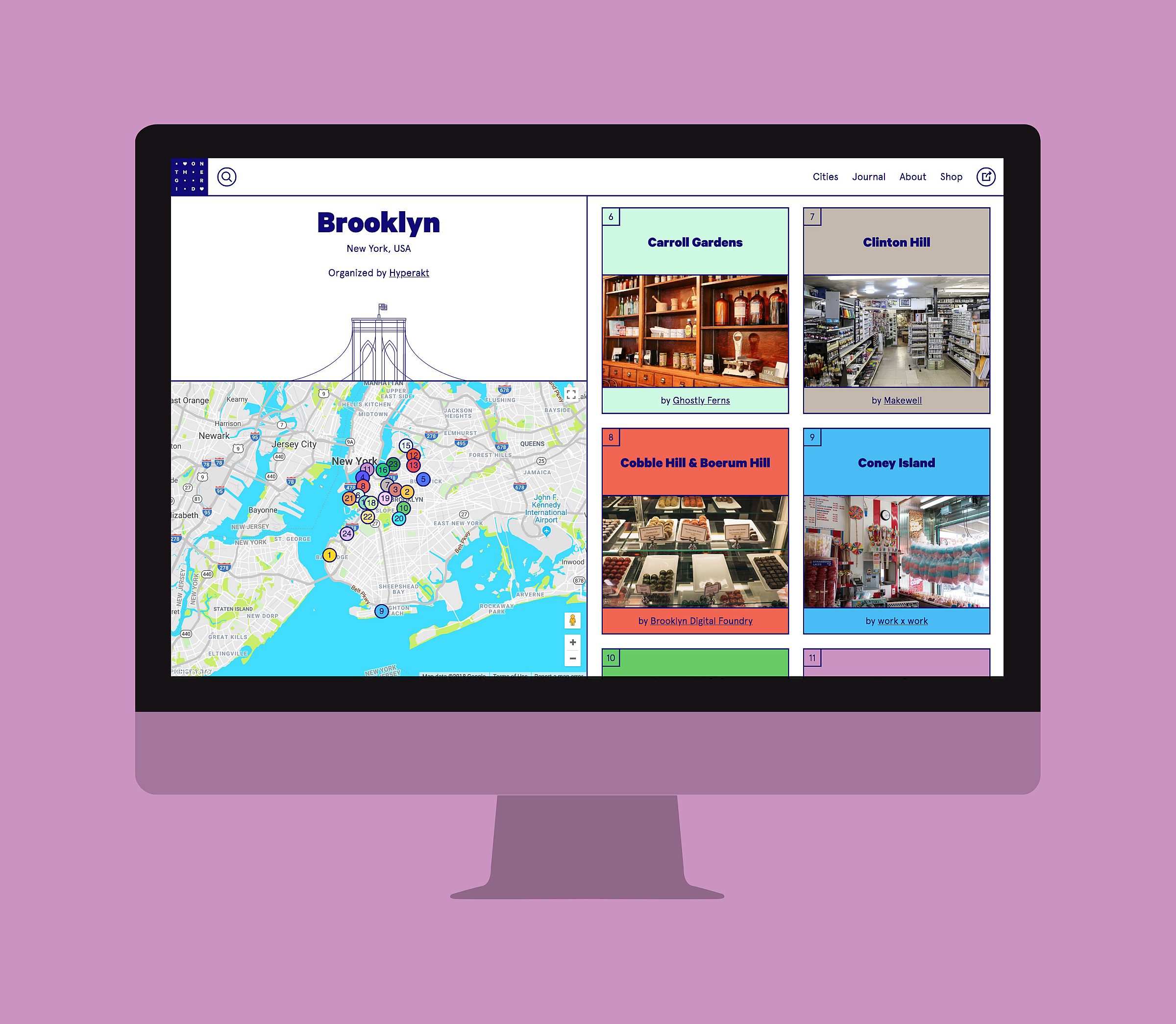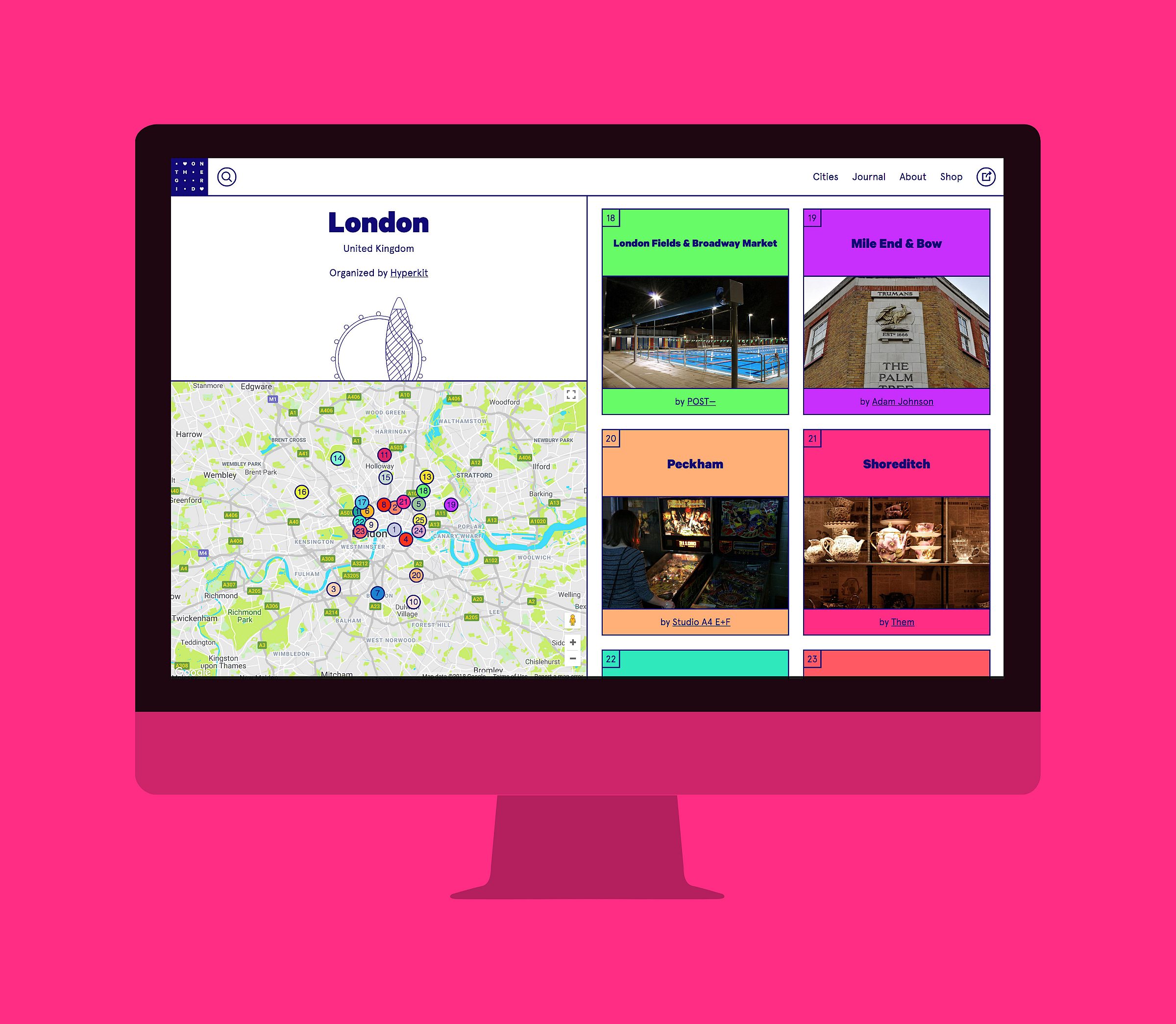 Illustrating the world's landmarks
As On the Grid grew to dozens of cities, eventually reaching well over 100, our designers painstakingly researched and illustrated the quirkiest landmarks we could find to represent each one. The collection includes classics like the Brooklyn Bridge and Eiffel Tower, but it also celebrates many modern buildings, sculptures, and more. We printed a limited edition set of silkscreened posters to commemorate our first 100 cities "On the Grid".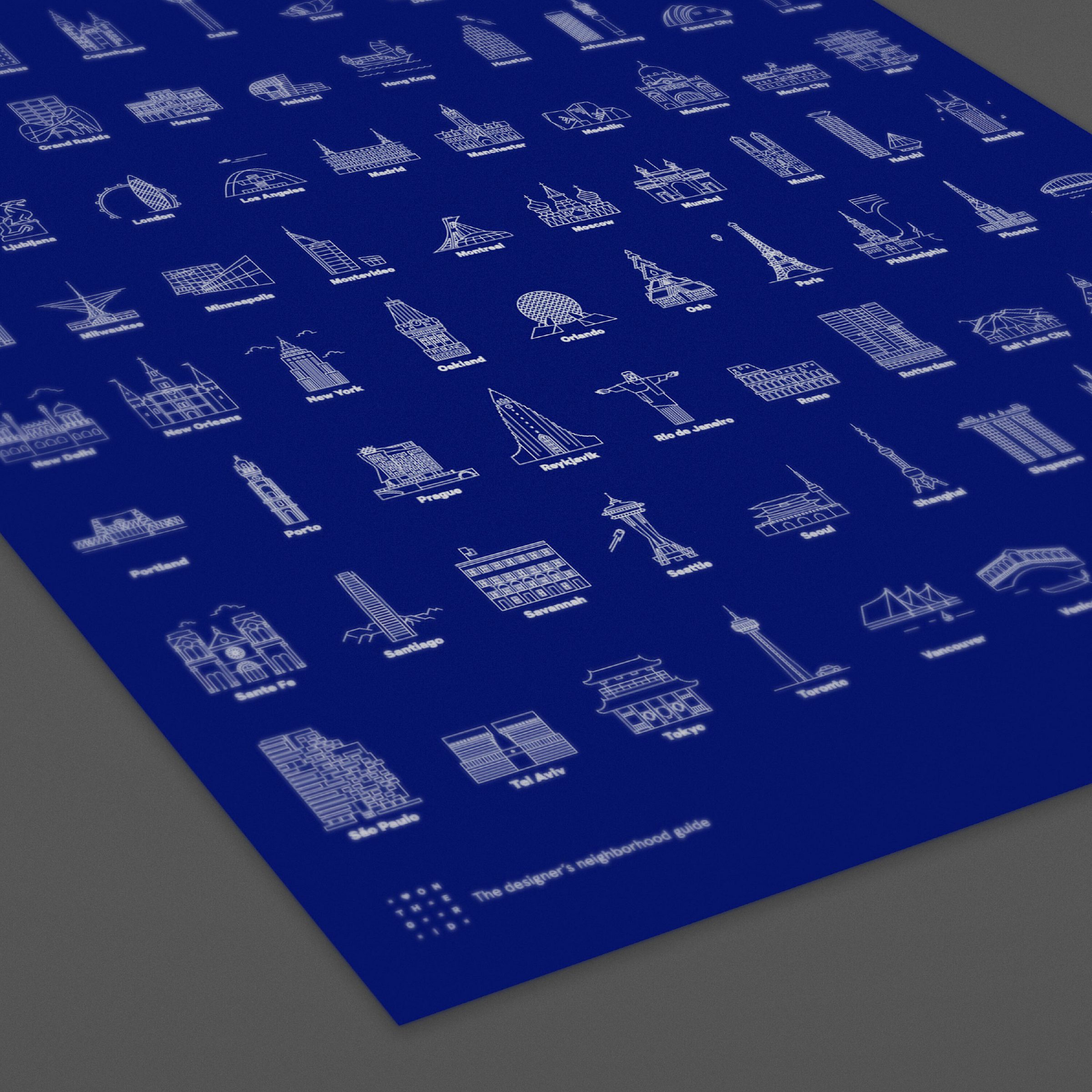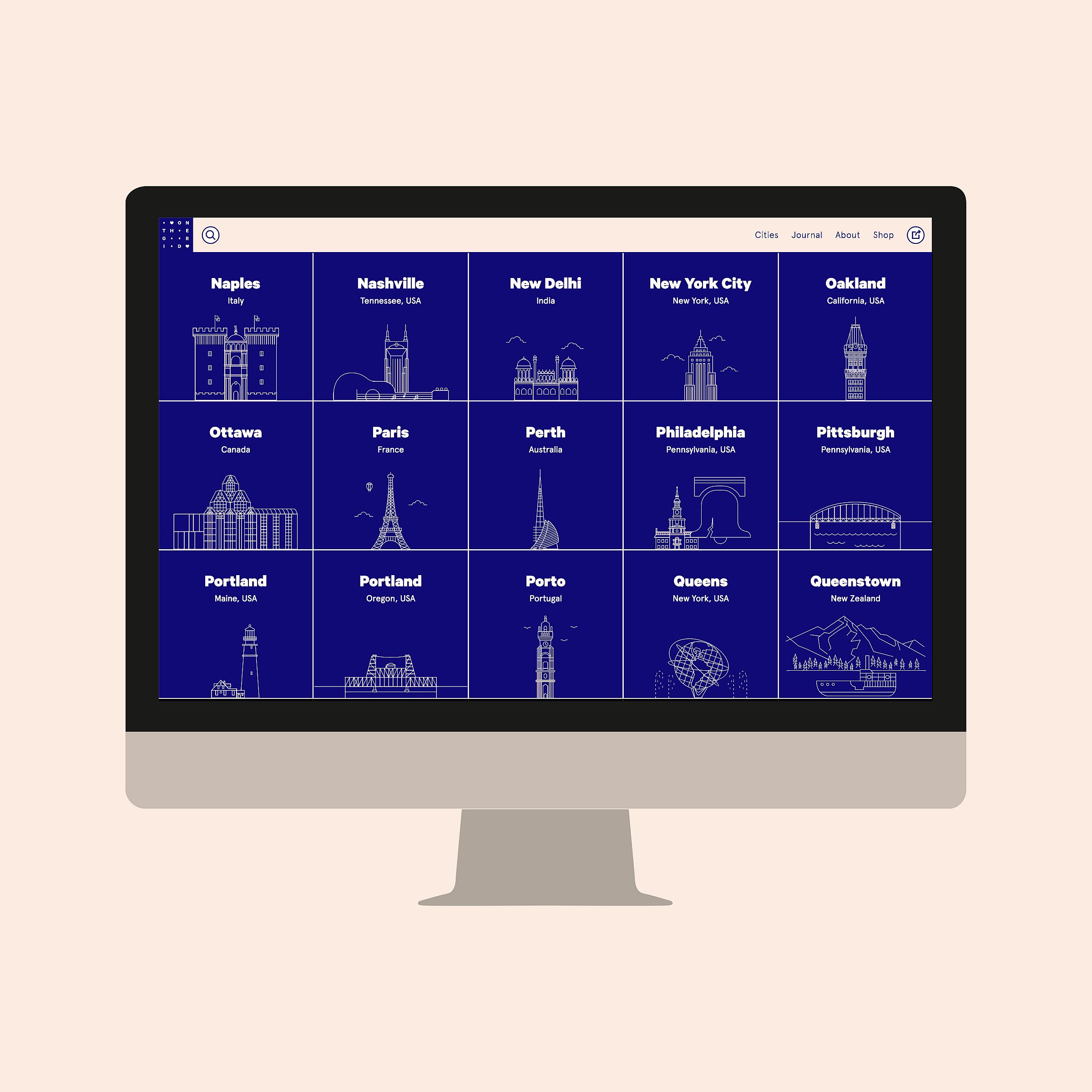 Creativity lives everywhere
Every neighborhood is its own world, and On the Grid treats all neighborhoods with thriving creative scenes equally. Each local guide is carefully crafted from scratch by our local Curator and filled with exceptional recommendations so travelers can experience any city like a local. Whether you prefer boutiques or mom & pop shops, cocktail bars or dive bars, fine cuisine or crab shacks, galleries or street art, we've got you covered.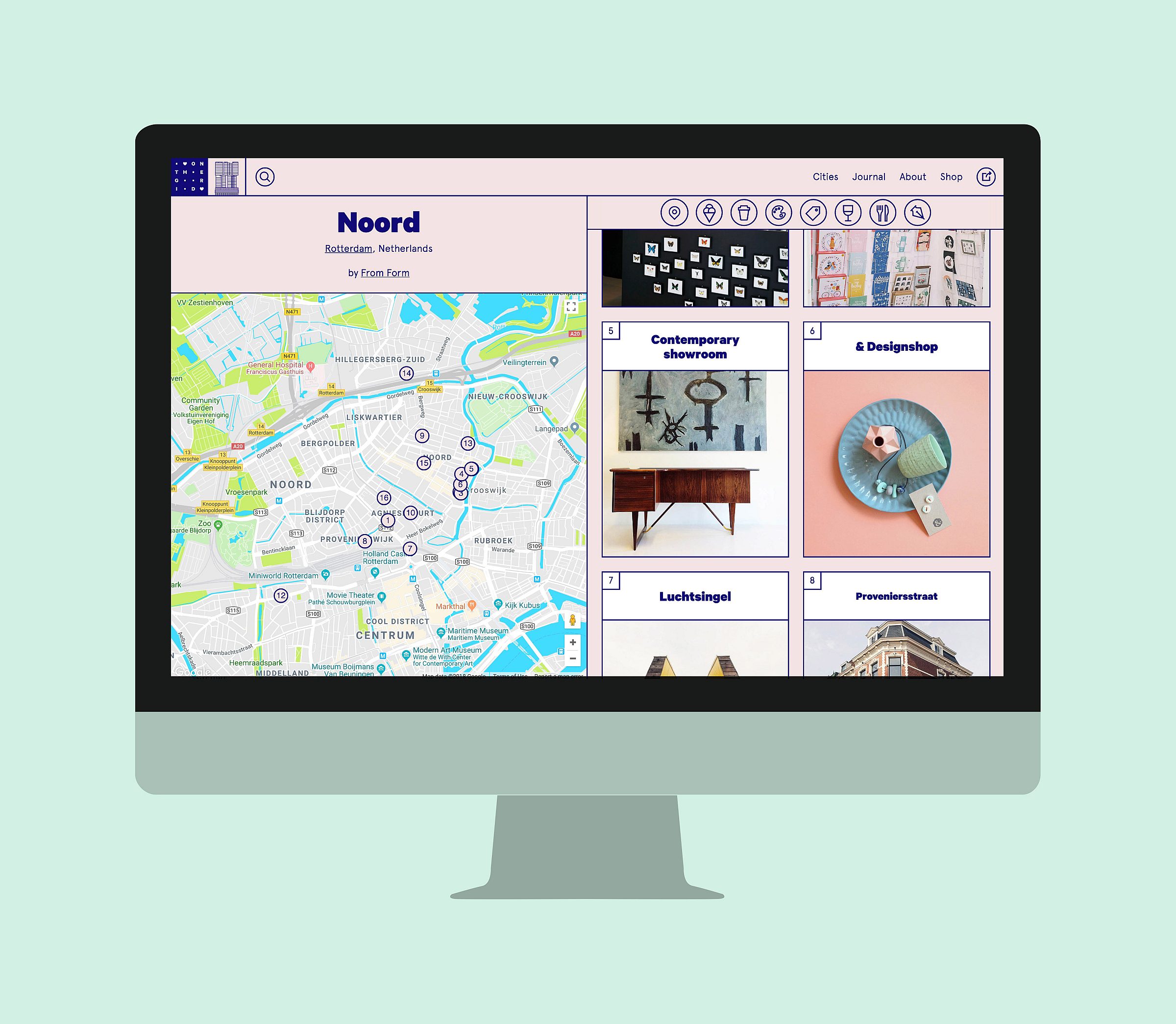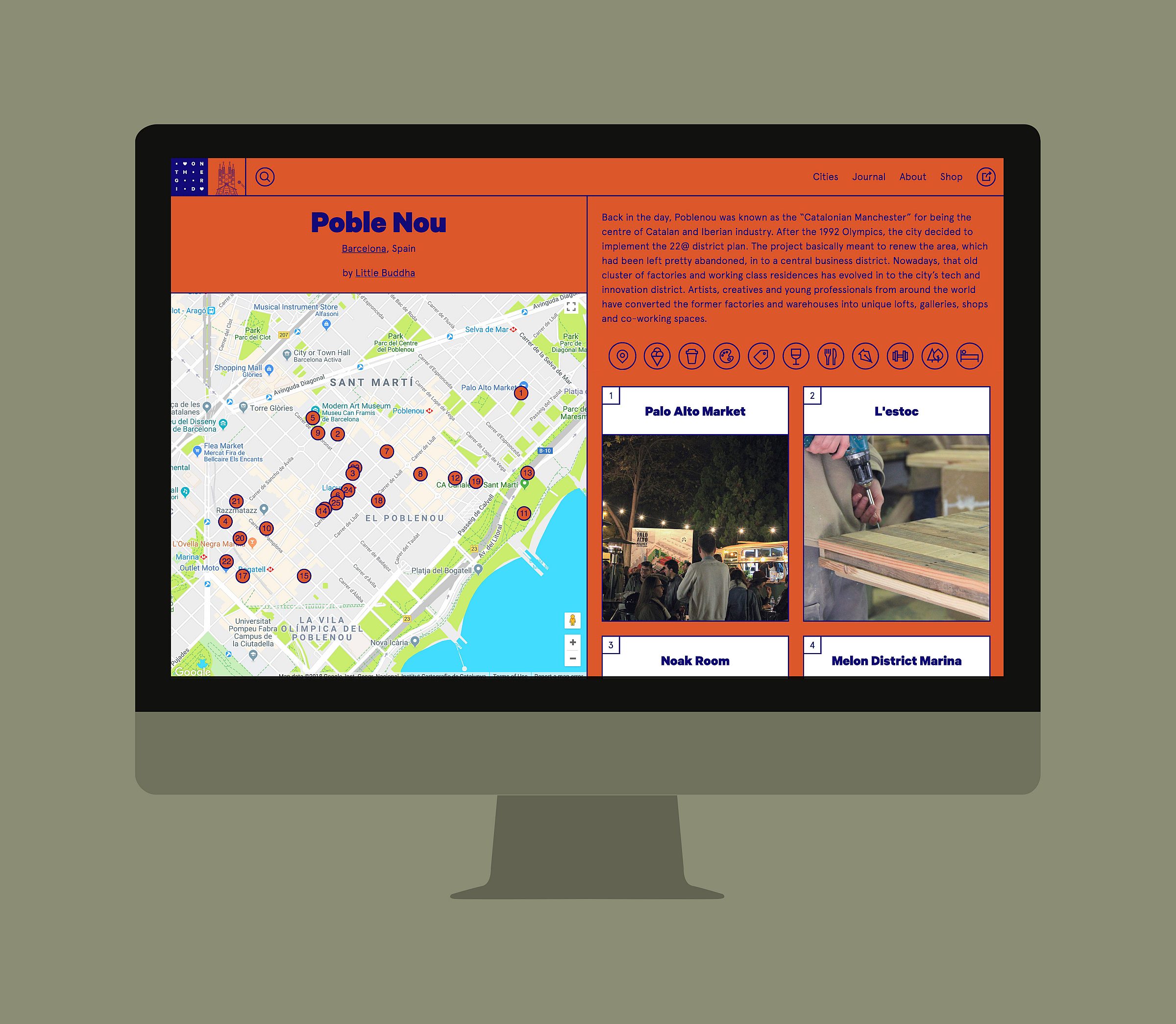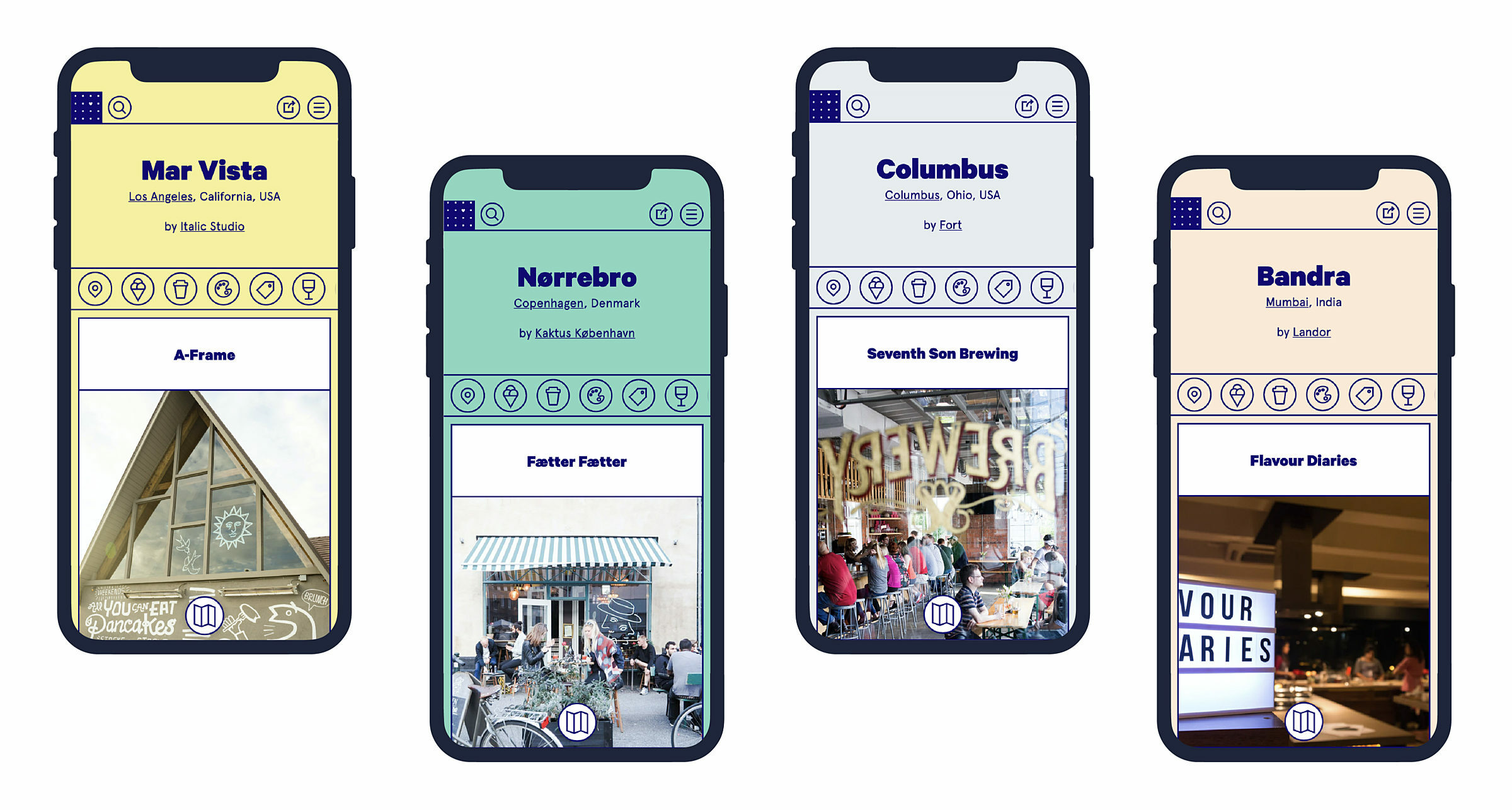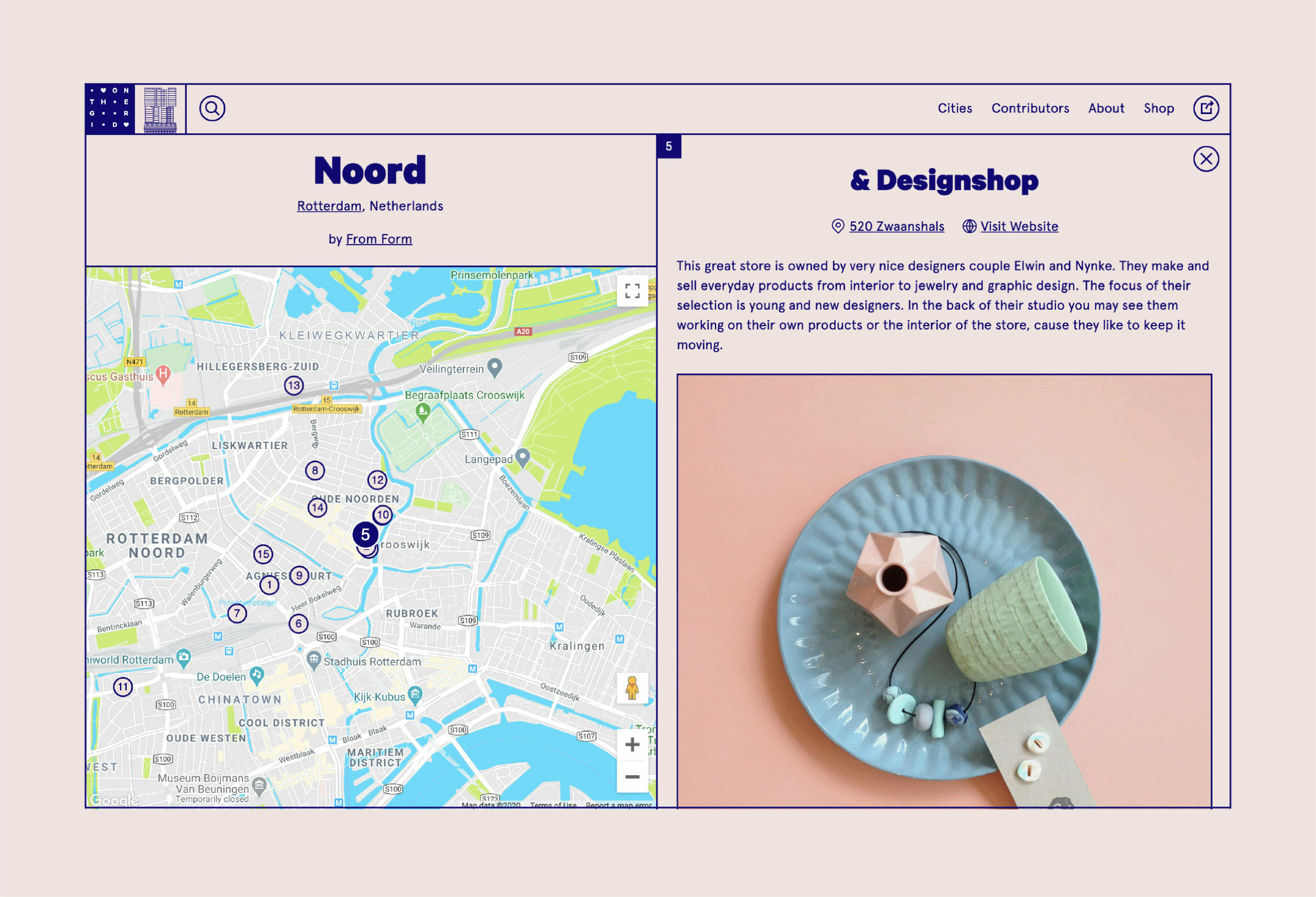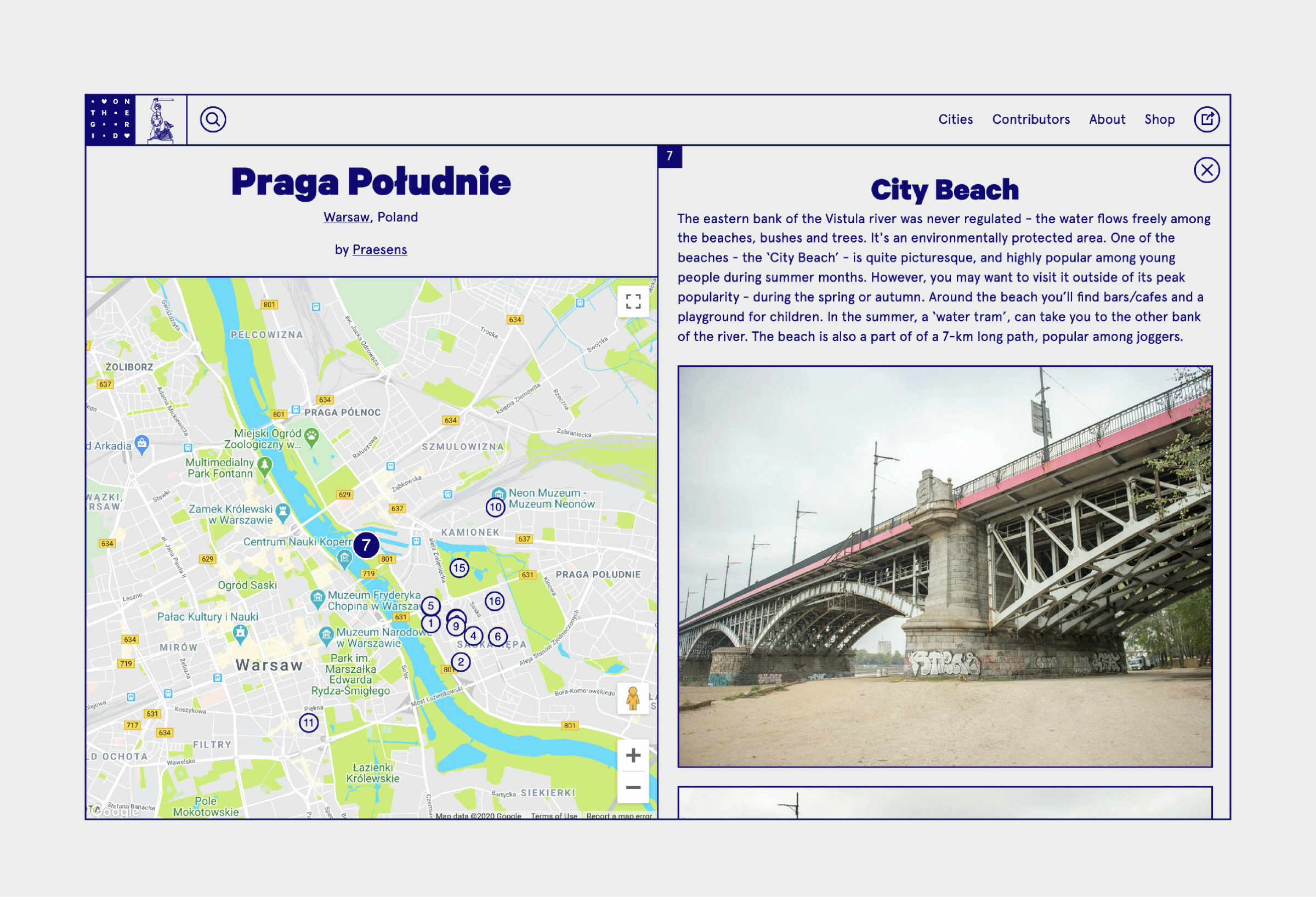 Inspiring, relatable, useful, and trust-worthy
The magic at the heart of On the Grid is its original photography. Our Curators around the world—all busy creative professionals—not only choose their favorite neighborhood spots, they hit the streets to capture a photo essay of each location. The result is a lush, intimate view of each location as experienced through the eyes of a designer.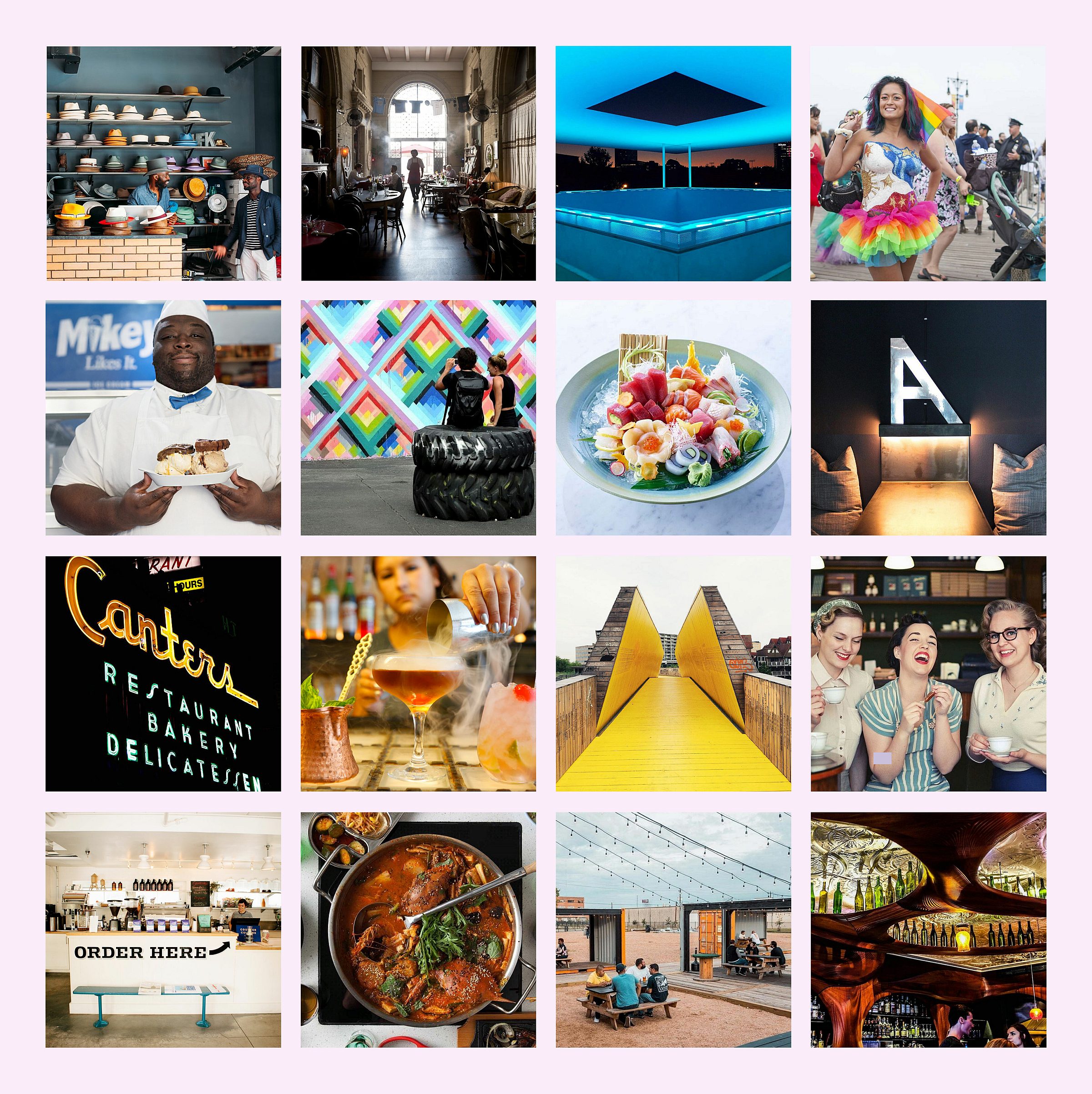 With a little help from our friends
Created and managed by Hyperakt, On the Grid is the collaborative effort of hundreds of the world's most talented design companies and independent creatives. Each OTG Contributor serves as a neighborhood Curator by selecting, photographing and writing about their favorite neighborhood spots.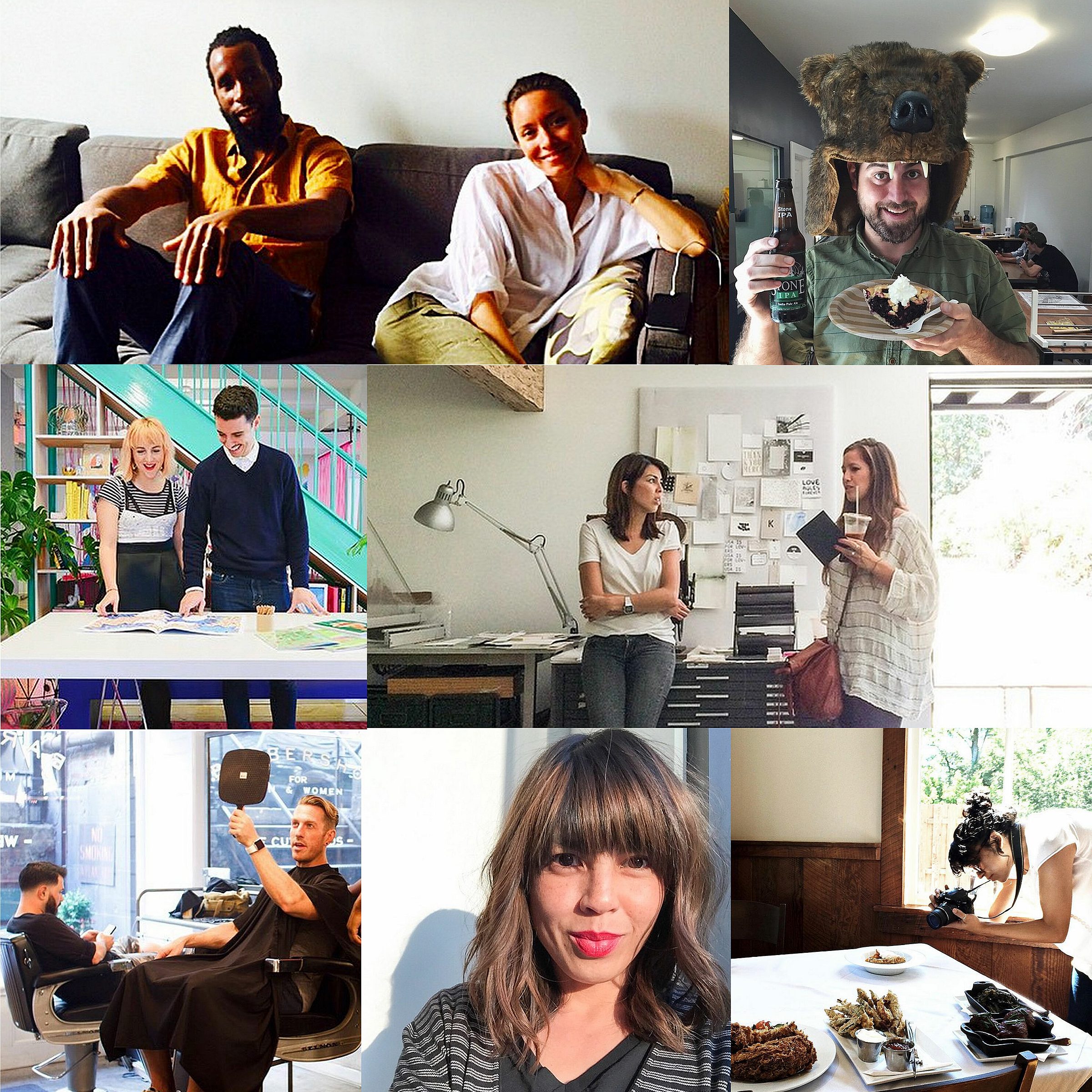 Love and praise from the internet
On the Grid has received glowing press and has built a cult following among the creative community. Ask a designer if they know OTG and odds are they'll say yes.
1.5M

Visitors

12M

Pageviews

3:15

Average session duration
"
This is one of those terrific, wish-I'd- thought-of-that ideas that you can't help but be charmed by..."
Khoi Vihn
Subtraction.com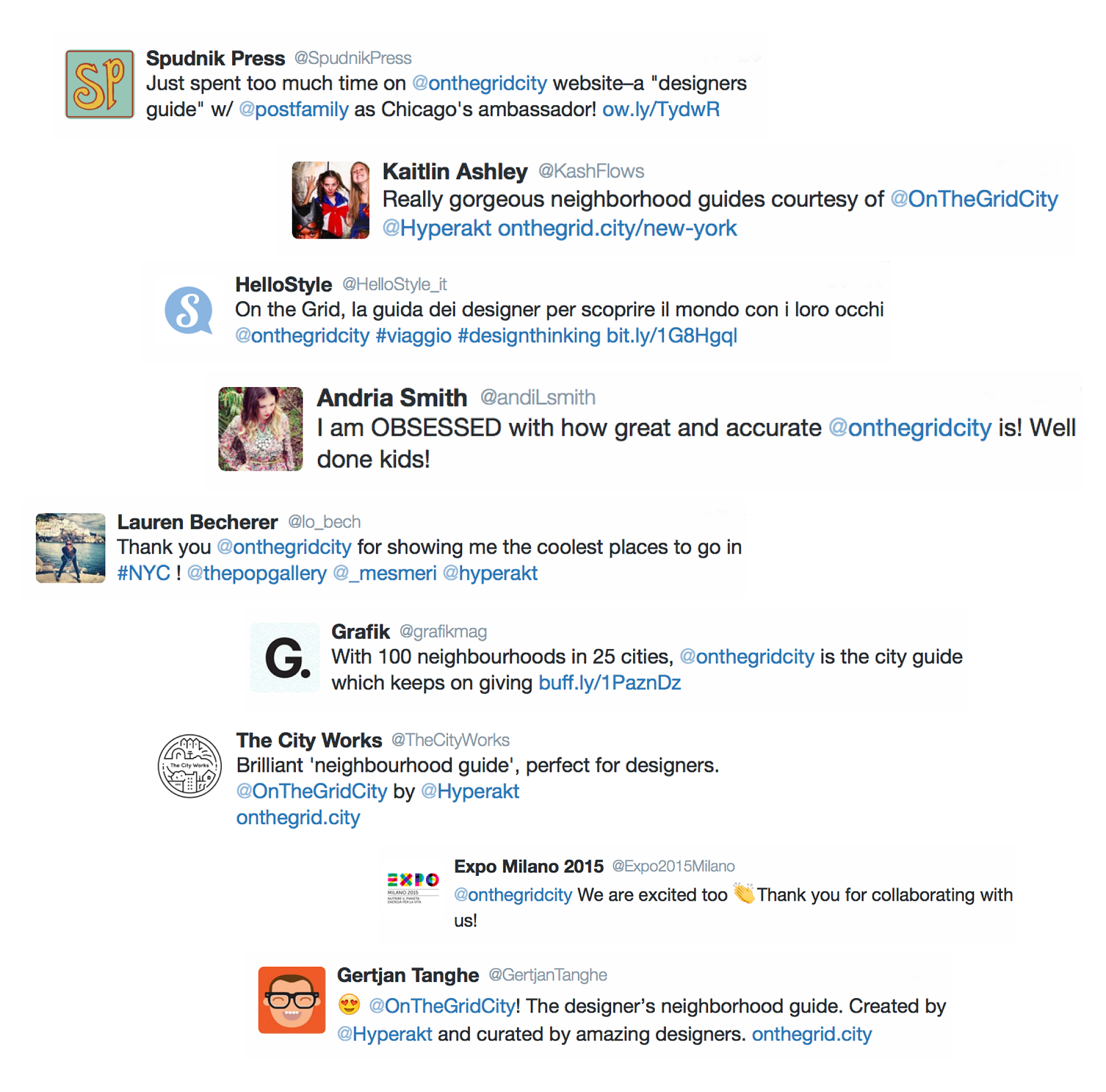 "
It's hard to get good advice when you're visiting a new city. Yelp is anarchy... Most travel apps are horribly designed. So these neighborhood guides are an especially welcome resource."
Gizmodo
On the Grid swag
In order to support our hundreds of Curators working on content in different countries, we printed business cards and flyers they could present at places they wanted in different languages. With the generous support of sponsors like Moo and Scoutbooks, we were able to ship official On the Grid starter kits all over the world.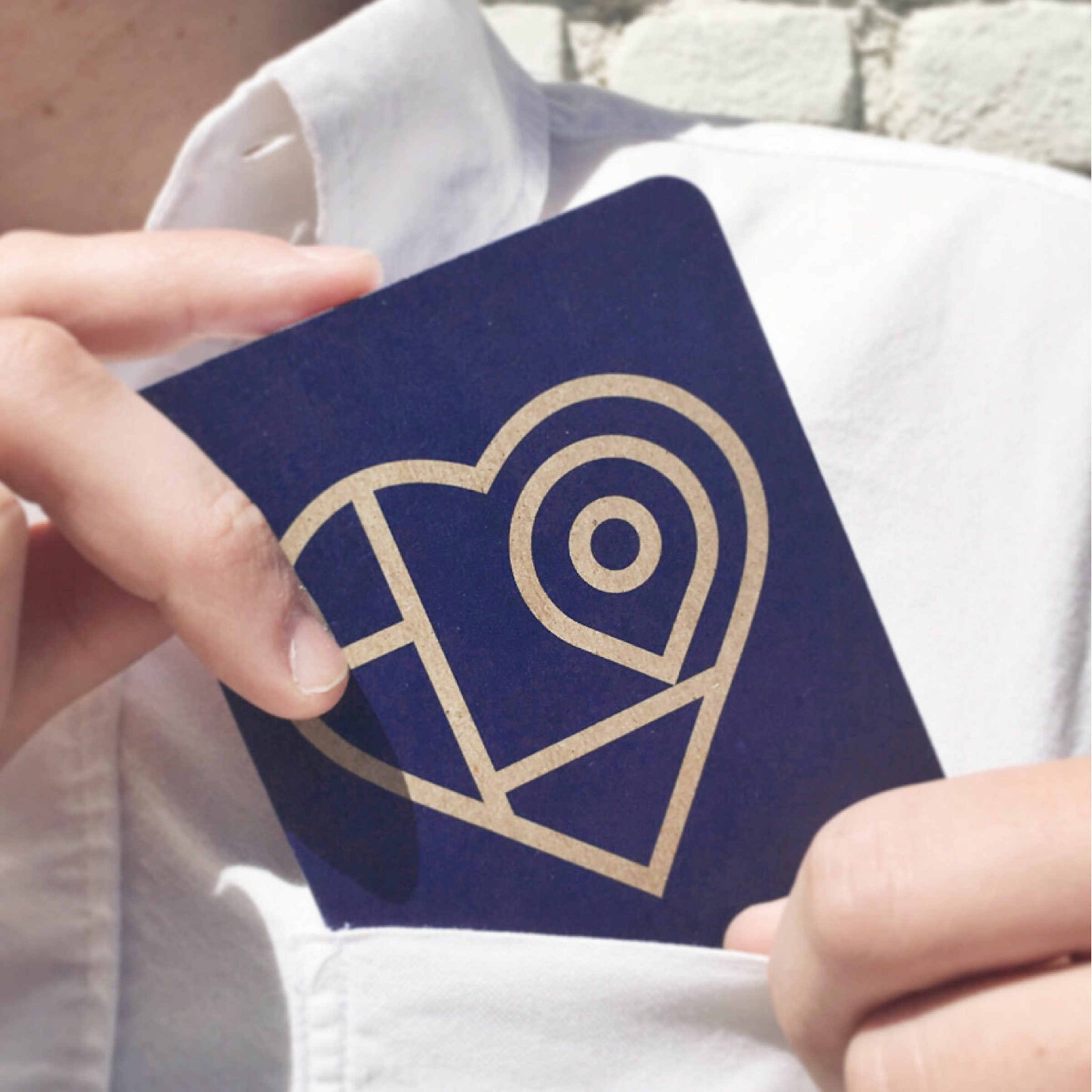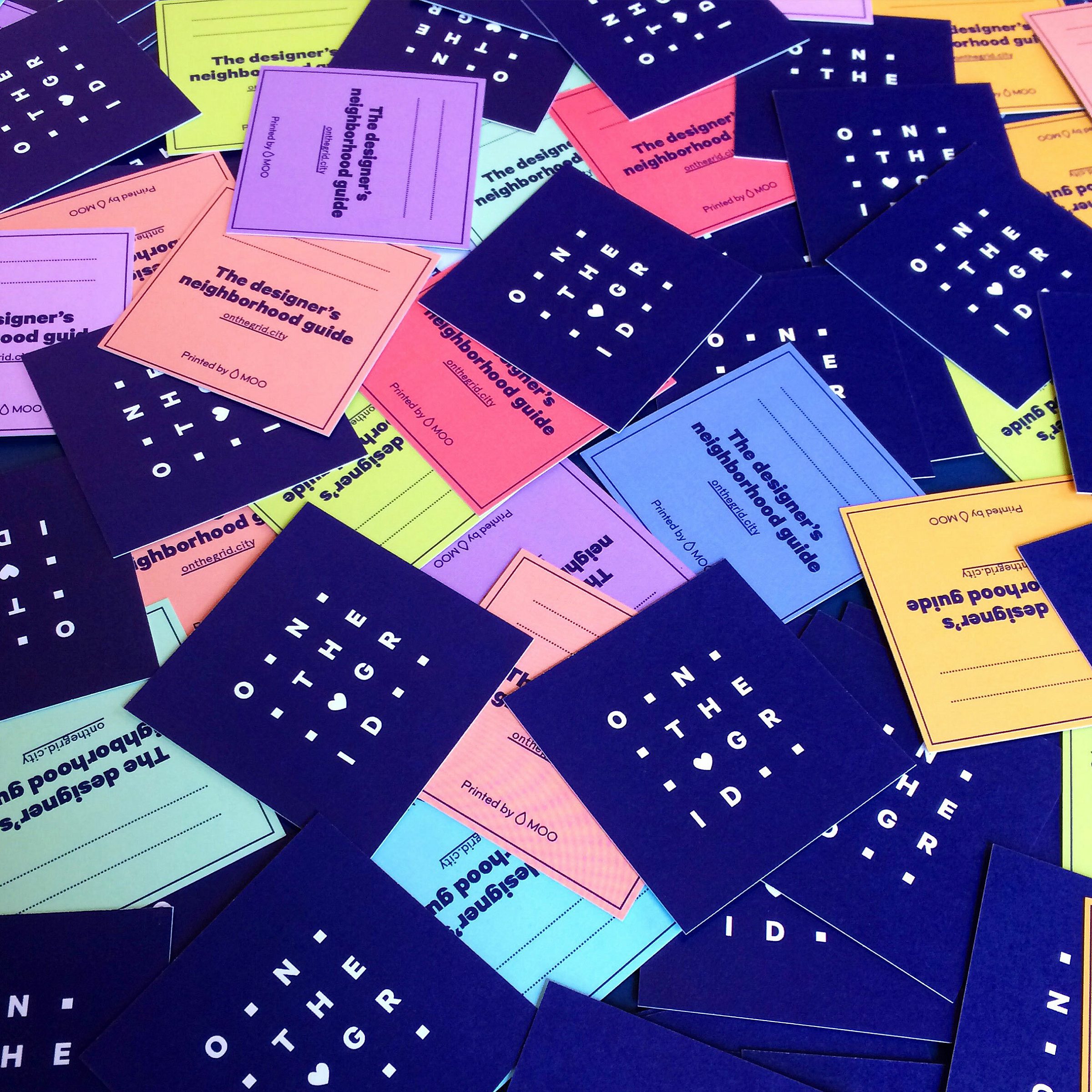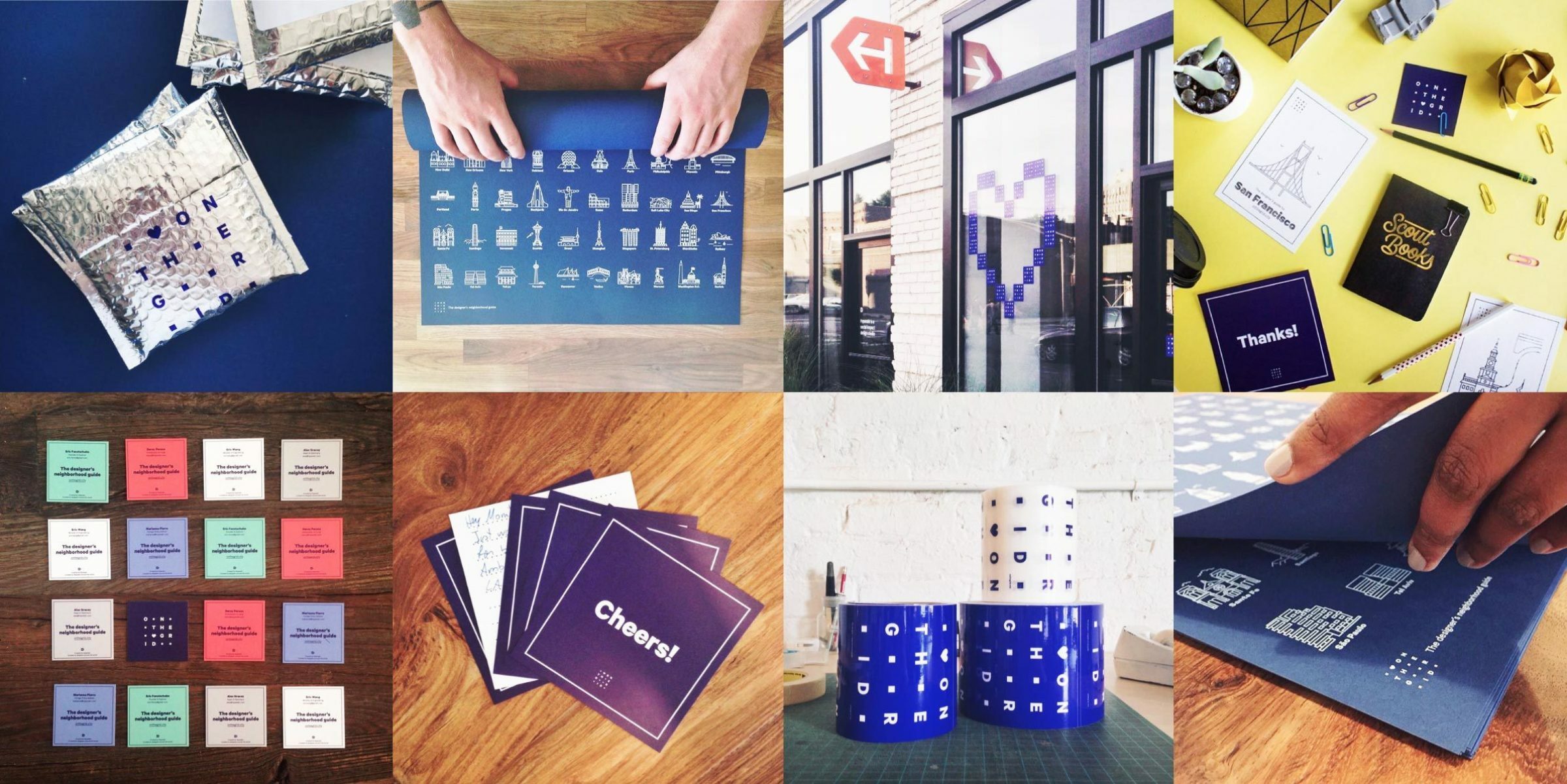 Social Innovation Week NYC
On the Grid was invited to create a sculptural representation of all the neighborhoods published on the site up to that point for WeTheSocial's exhibition in NYC's Nolita neighborhood. Each neighborhood was represented by a 6" x 6" cube with photos and text on all sides.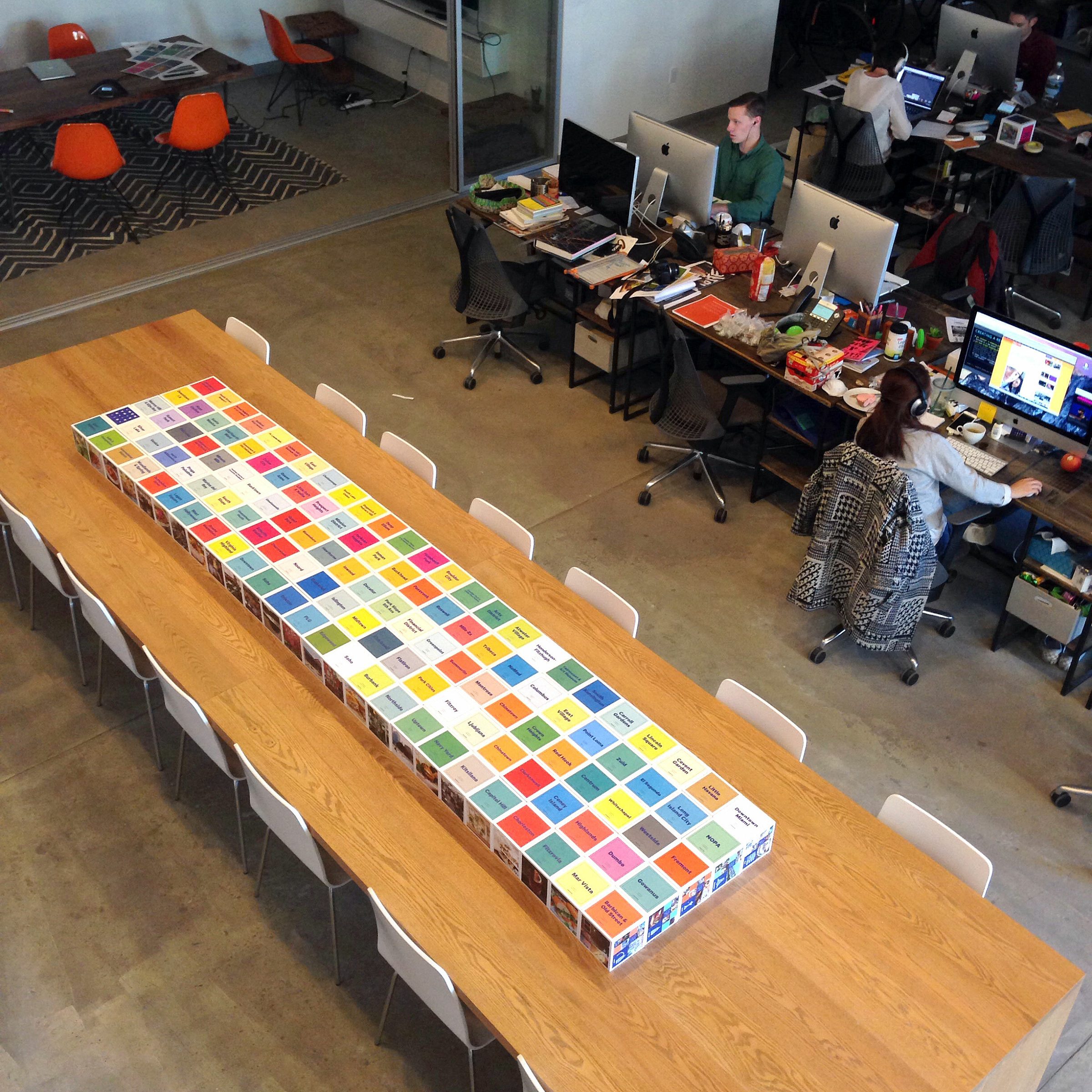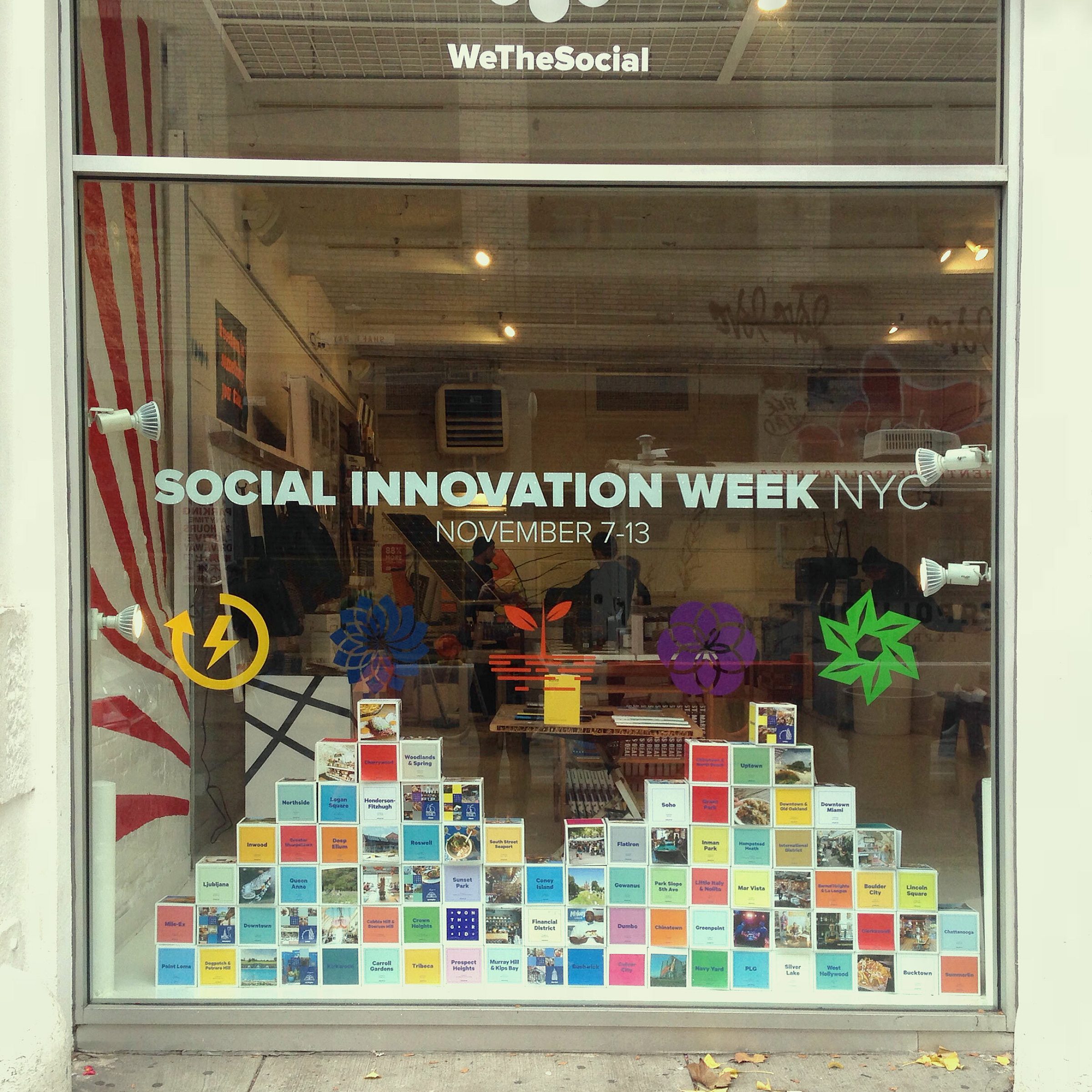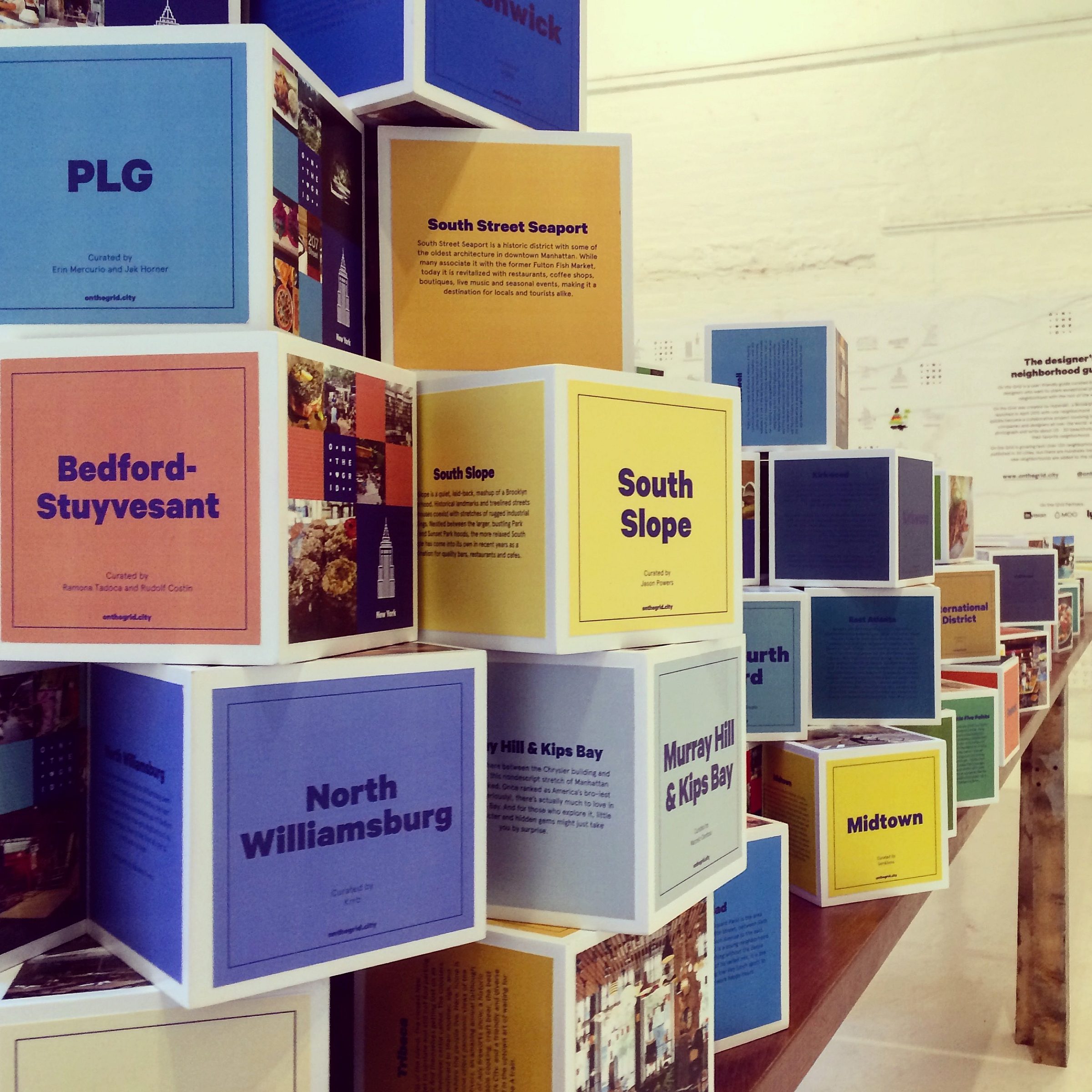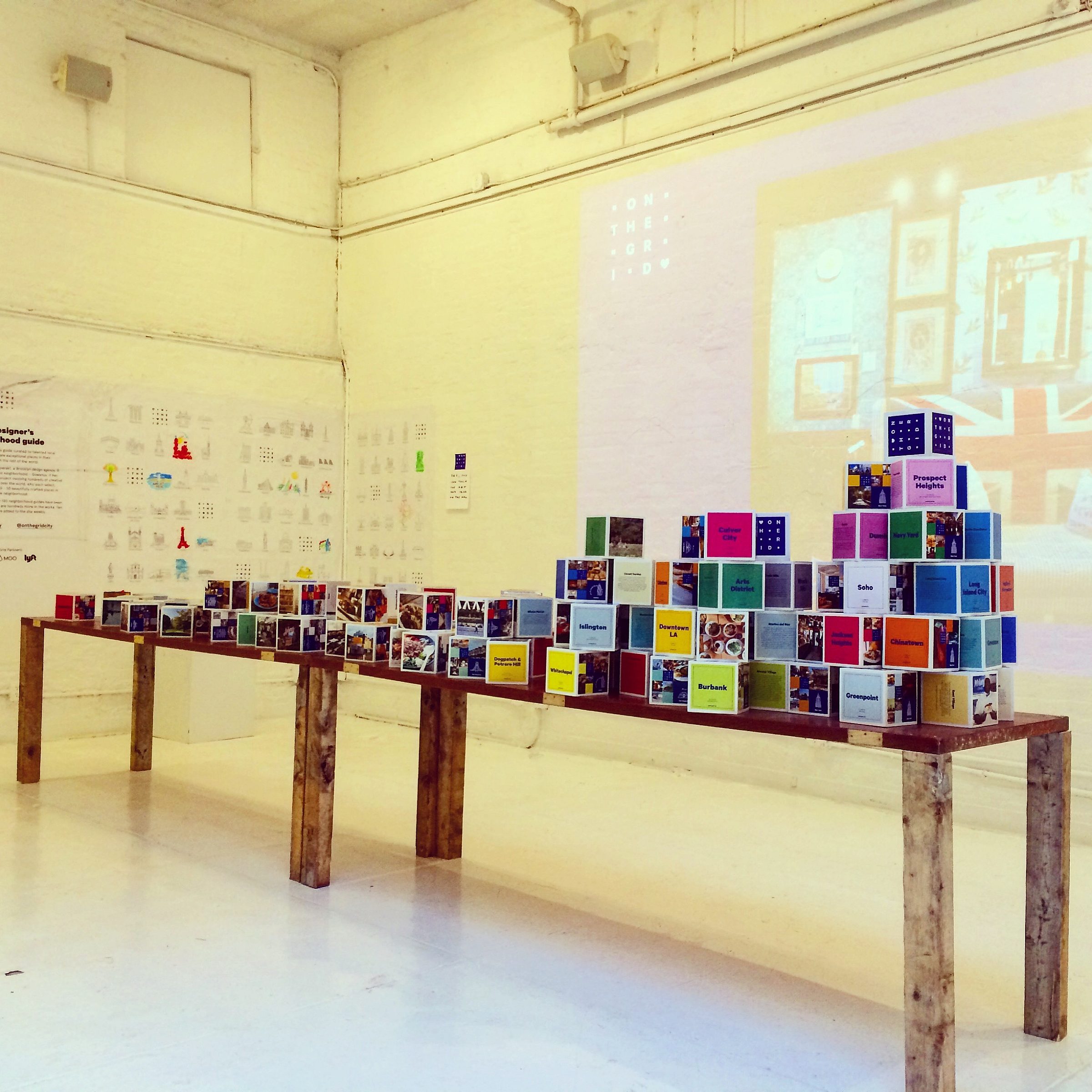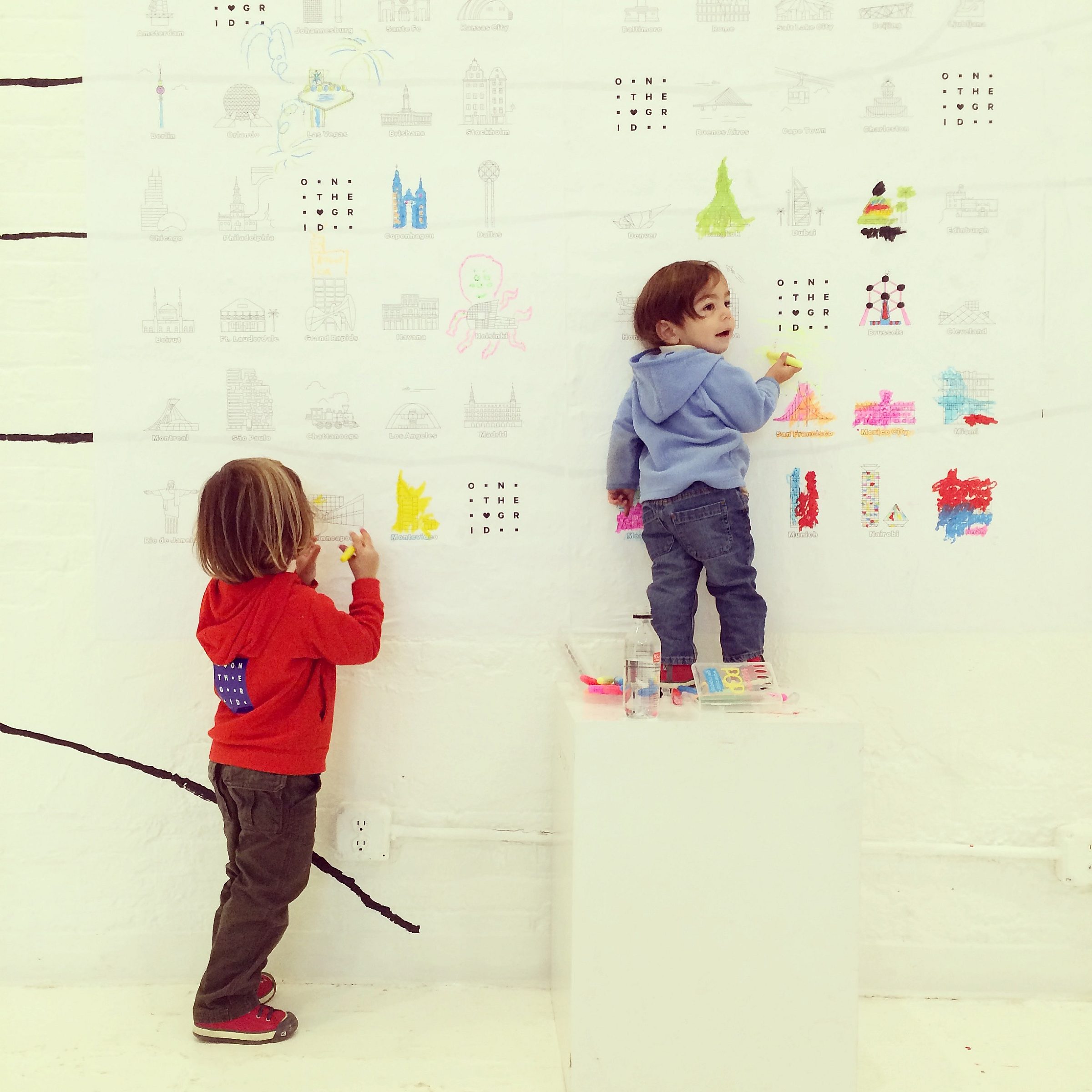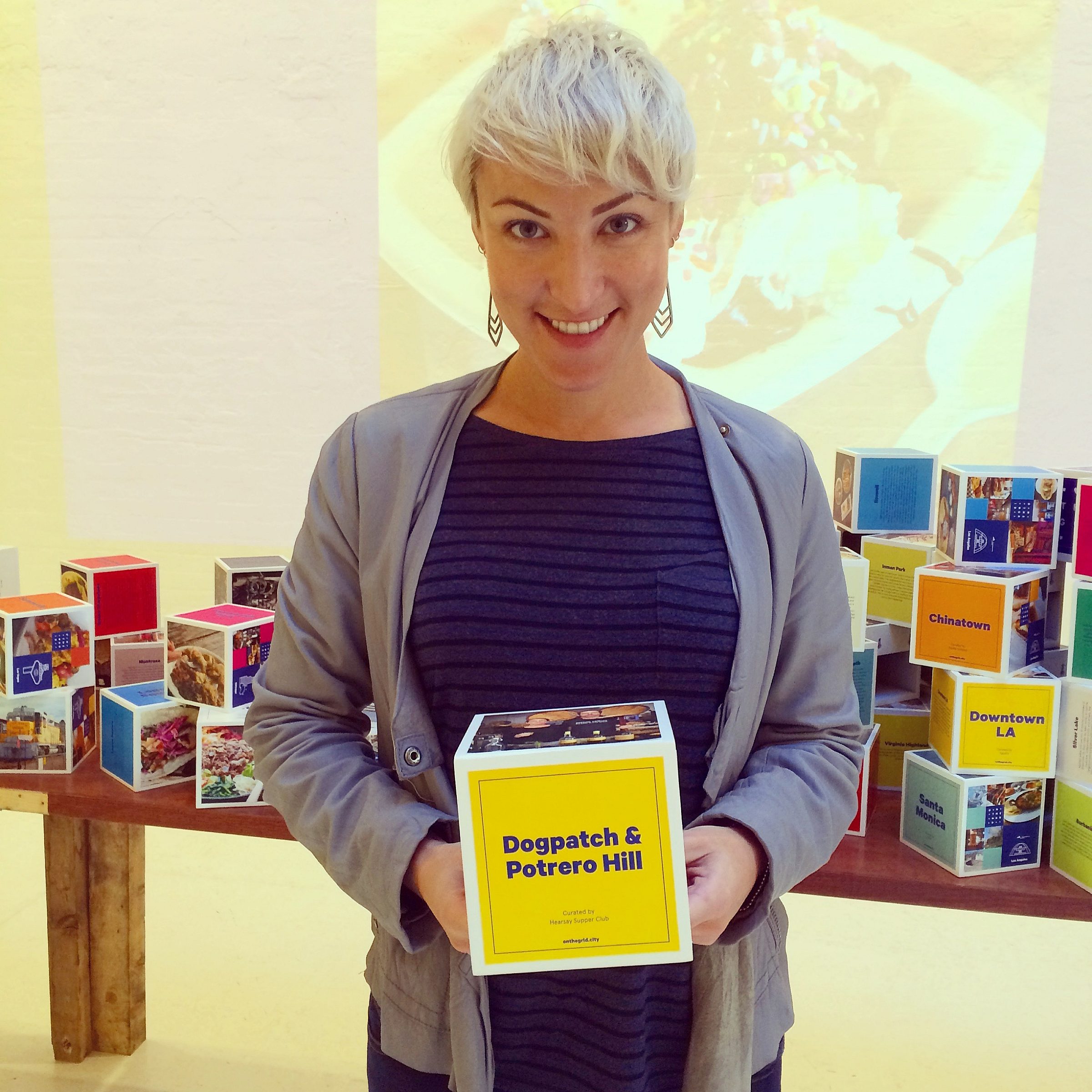 Project Credits
Project Team
Eric Fensterheim
Marianna Fierro
Alex Gracey
Eric Wang
Wen Ping Huang
Logan Emser
Nick Di Chiara
Jeanne Henry
Andres Kishimoto
Nick Beattie
Misa Rodriguez