Work
Motion For Justice
A resource hub that equips prosecutors—the legal system's powerful gatekeepers and decision makers—to reduce racism-fueled harm to Black and brown communities.
A strategic focus
Vera Institute of Justice and the Institute for Innovation in Prosecution at John Jay College have teamed up to highlight the importance of changing the hearts and minds—and most importantly, the actions—of prosecutors. With a laser focus on a specific subset of the legal process, Motion For Justice speaks directly to over 2,300 prosecutors offices nationwide.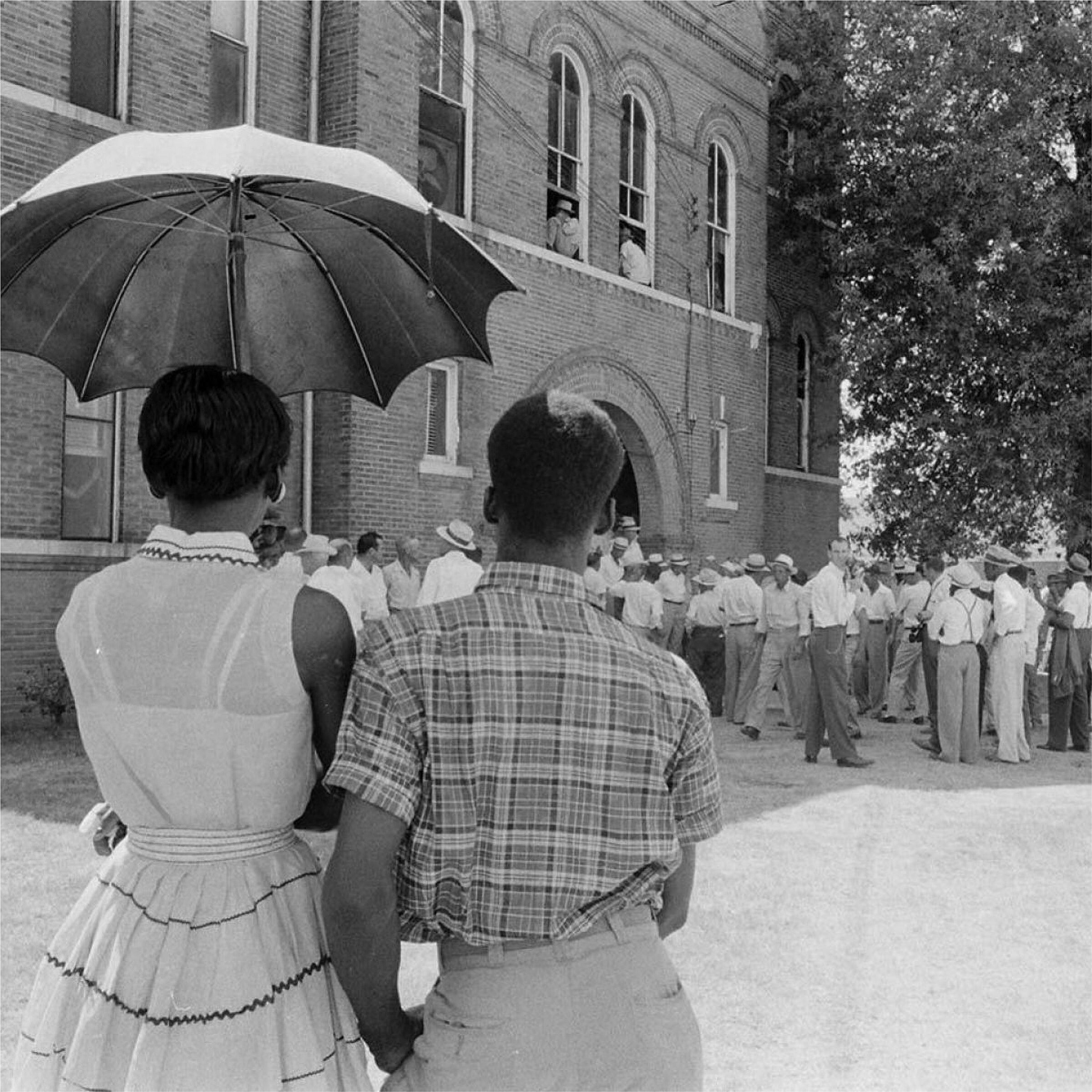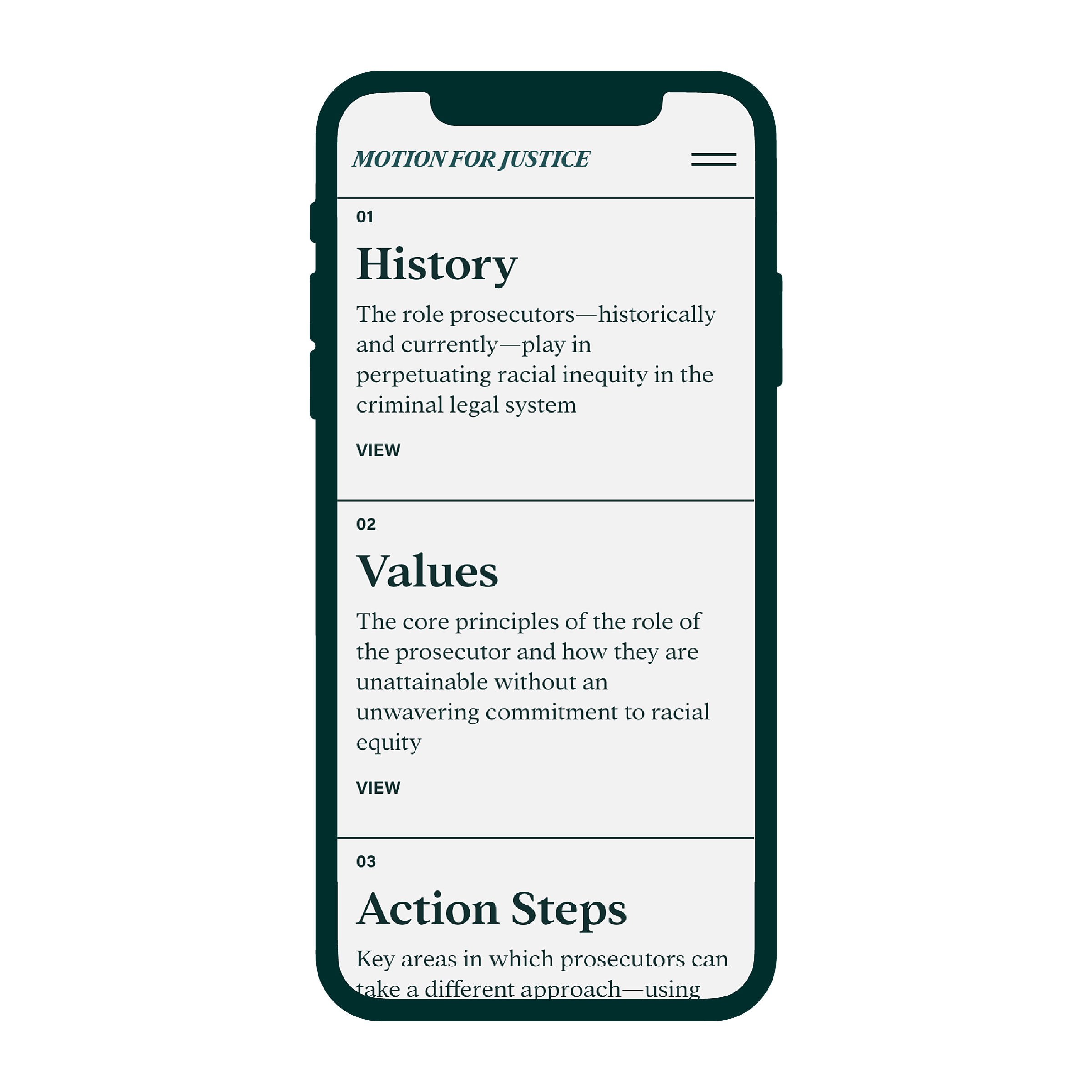 Inspiration meets information
Motion For Justice strikes a balance between approachable and serious, careful to respect the gravity of the issues at hand while creating a space that encourages genuine engagement. In crafting the name Motion For Justice, we played on the term for filing a motion, "A written or oral application made to a court or judge to obtain a ruling or order directing that some act be done in favor of the applicant." Leveraging the technical noun to do double duty as a verb emphasizes the future-focused momentum of MFJ. And the left-justified double rules that run across the site echo the aesthetic of legal briefs.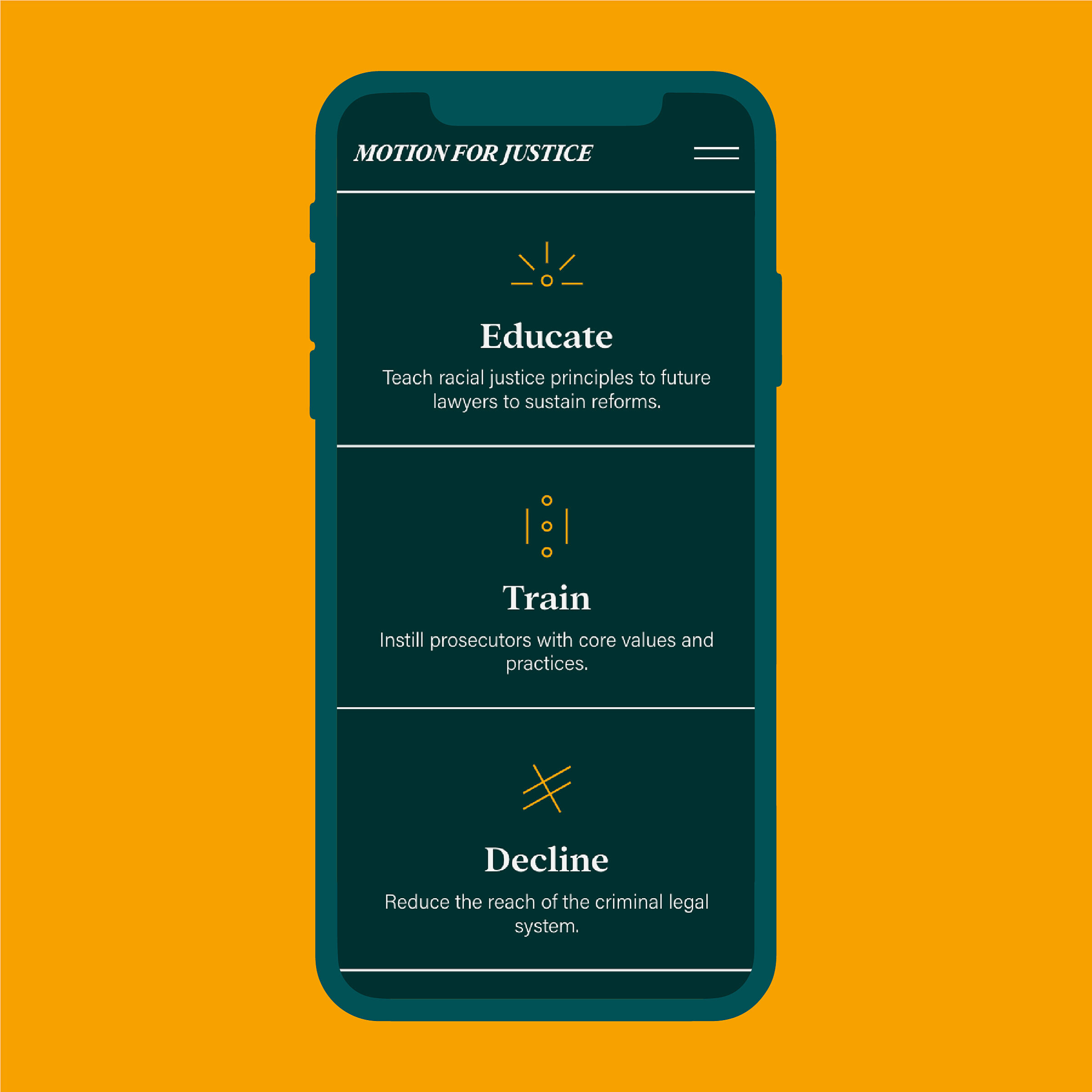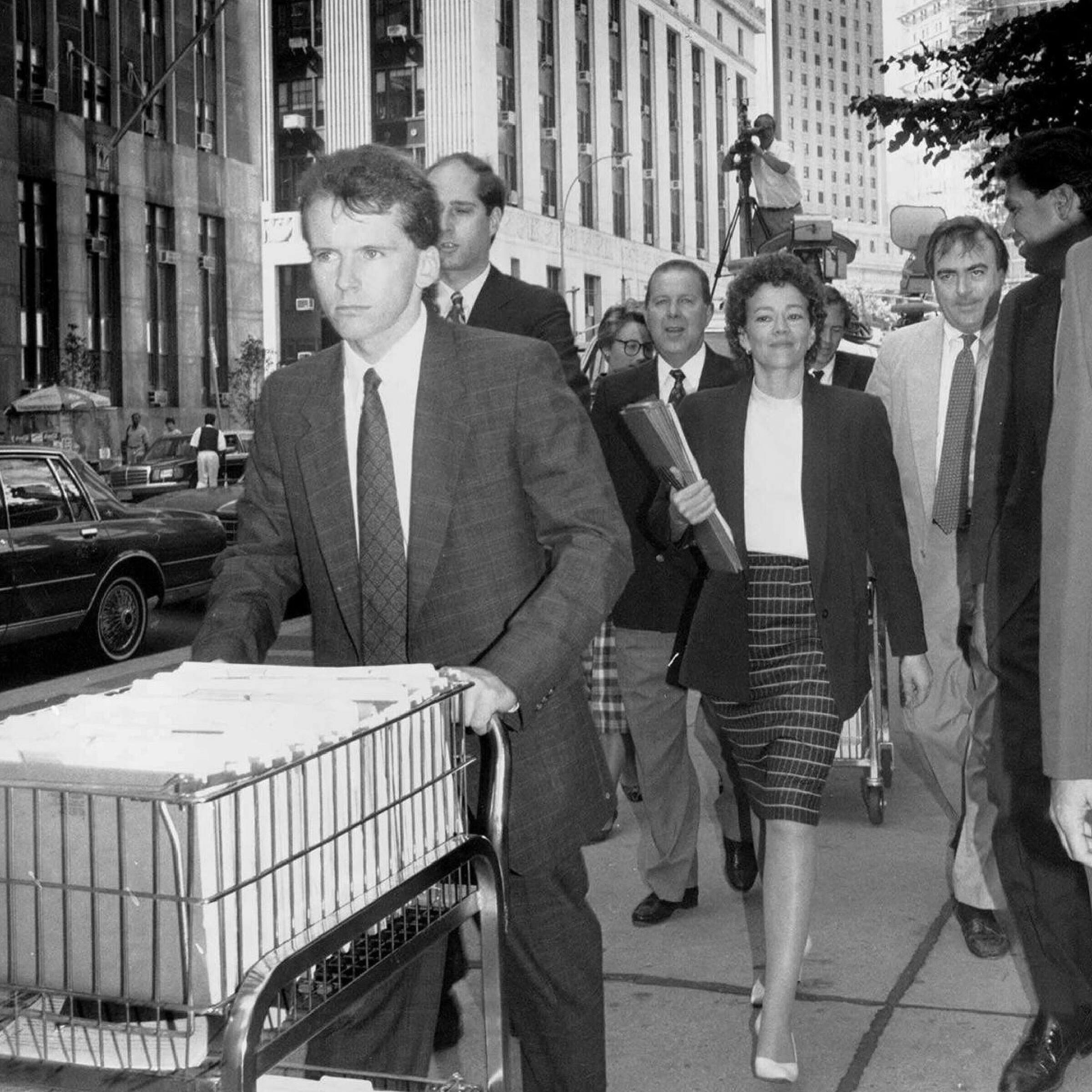 Long-form content for long-term change
Eschewing surface-level activism, the Motion For Justice website is filled with in-depth resources (yes, there are footnotes!) to effect real, informed change. We created an engrossing yet navigable user flow to guide visitors: a clean, bold home page that unfurls to reveal detailed information across histories, values, action steps, and strategies.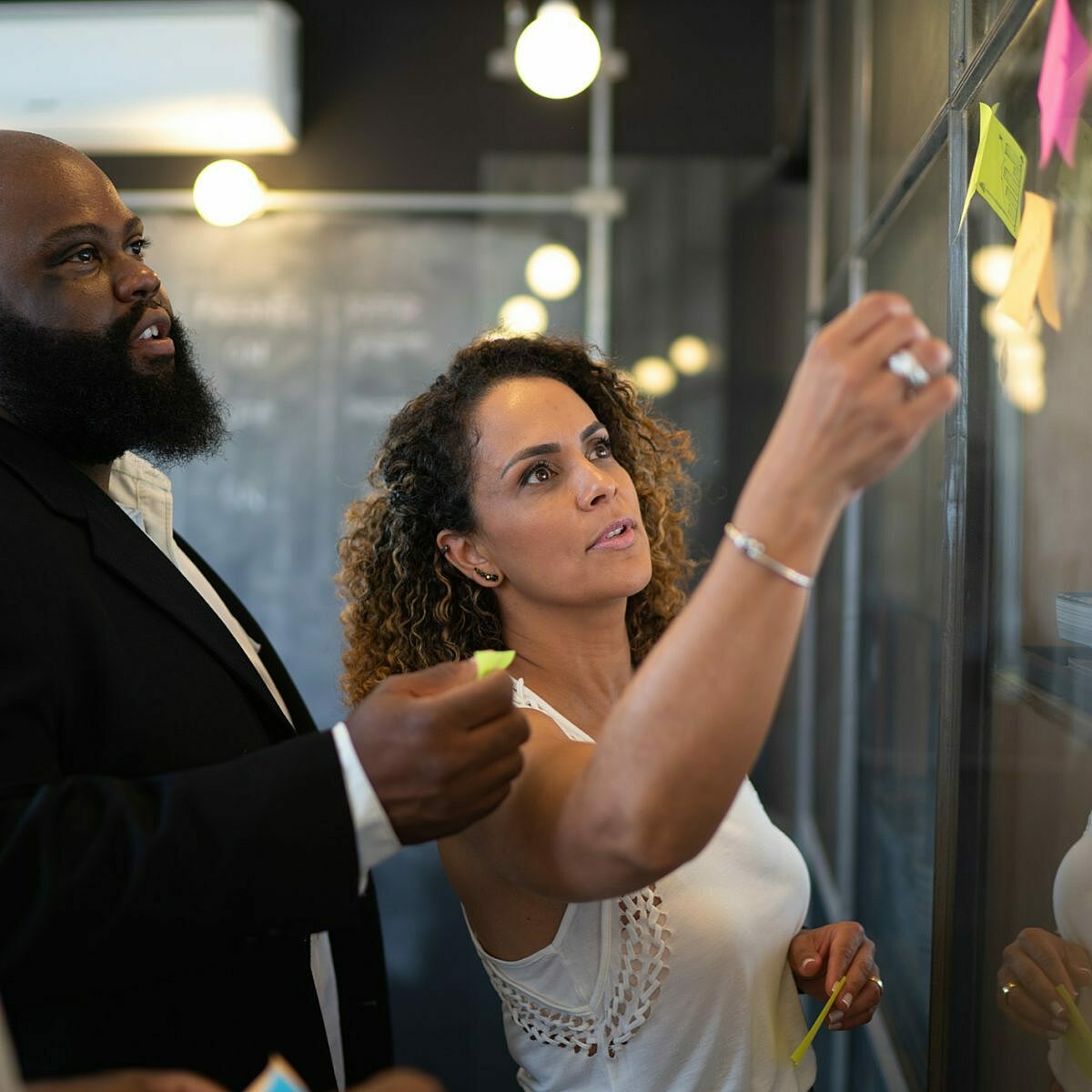 A picture's worth a thousand words
In addition to the core audience of prosecutors, Motion For Justice also serves impacted communities—as a reference point, documenting the history of oppression through targeted prosecution, and as a resource for organizers ready to take action. Rounding out the written resources are an abundance of powerful photographs and video interviews, lending a sense of humanity and immediacy to the brand.
Project Credits
Project Team
Abigail Fisher
Logan Emser
Ryn Adkins